Interview: Arijan Clark
Welcome to a new feature here at SKJAM! Reviews, interviews with the people behind the media.
Today, we're talking to Arijan Clark, the translator of Volume Three of "Anesthesiologist Hana", previously reviewed on this blog.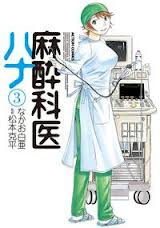 S. Could you tell us a little bit about yourself?
A. My name is Arijan Clark, and I'm a full-time freelance translator living and working in the Seattle area. I was raised in the Camano Island area (in other words, knee-deep in mud, seawater, snow geese, Viking helmets, and tulips), along with two younger brothers who taught me to love cheesy kung-fu flicks and early-Nineties video games.
I jot down scraps of sci-fi and fantasy when time permits, although I can't really call myself a "writer" until something gets published, and I read omnivorously and vociferously. My husband David and I tied the knot last August after three years together, spent a lovely honeymoon in Yosemite National Park, and are now happily settled in an apartment near his job at Microsoft.
S. Where did you study Japanese?
A. Japanese was one of four languages offered at my high school, and my interest in the country had been piqued by a Japanese exchange student who stayed with my family when I was in middle school. The arrival of the Pokemon franchise on American shores fanned the flames of attraction, and I was madly in love with the language within a month of starting classes. It was so wildly different from English, and my teenaged fascination with those differences sparked a lifelong interest in grammar and linguistics. It also eventually led me to the JET Programme, where I met several of my closest friends and the love of my life. Go figure, right?
S. How did you get the job of translating Anesthesiologist Hana?
A. In the summer of 2011, between semesters of graduate school, I interned with a game translation company in Osaka to build up my professional experience. We mainly worked with iPhone apps and arcade games, but the occasional manga job came down the pike as well. They've continued to send me freelance work, and Anesthesiologist Hana was among those jobs.
S. Anesthesiologist Hana uses quite a few specialized medical terms. Tell us about the research process you used to deal with this.
A. Although I studied medical translation in graduate school and did quite a bit of online research, my main resource was my parents, who are both M Ds. I was working on Anesthesiologist Hana during the interim weeks between my graduation from grad school (and move-out from my California apartment) and my marriage (and move-in with my husband in Washington). My parents not only reopened their home to me for those weeks, but patiently let me borrow their resources and pick their brains for as much casual hospital-staff slang as I could possibly need. Their help was invaluable, and I can't thank them enough for putting up with my (often apparently random) questions.
S. Which character from the manga do you like best? Why?
A. Honestly, my favorite character was Hana herself. A lot of the supporting characters in Anesthesiologist Hana are self-absorbed, grouchy, hostile, flaky, or outright perverted. (Good god, someone needs to punch that Minami guy in the throat.) And Hana in her narrative role as The Watson / Ms. Exposition does suffer from a bit of Naive Newcomer behavior that doesn't make sense for a trained doctor, even in the third volume. But with basic writing fumbles like that, I prefer to fault the author and try to appreciate the character on their own merits, and Hana measures up very well. Regardless of her thankless job and gormless coworkers, she manages to maintain a sweet and optimistic outlook on life, genuinely wants to give her patients the best possible treatment, and finds real meaning in her daily work. I think that's really admirable, and inspiring to anyone slogging through a not-so-hot job.
S. Did anything particularly interesting happen during your translation of this volume?
A. In the middle of working on the Hana translation, I had to fly back to California to attend my then-fiance's graduation from Stanford. We packed his things into our hatchback and road-tripped back up the coast to Washington, but I still had to get the job done. Consequently, I spent the drive busily translating away on my laptop and phone-texting occasional medical-slang questions to my mother when my memory and dictionary failed me, then emailing my deliverables to Osaka over the wi-fi at whatever hotel we found for the night. It was an adventure, but I definitely prefer working from my own desk.
S. I am aware that the standard non-disclosure agreement prevents you from revealing the titles of projects that haven't been published yet, but are you working on any further translations for Jmanga?
A. I haven't received any further translation work from Jmanga at this time, but my experience with them was a good one and I'd be delighted to work with them again. Unfortunately, since the job was assigned through a translation agency, they almost certainly have neither my name, nor my contact information. C'est la vie.
S. Thanks for your cooperation!
Let's have a round of applause for our special guest, and be sure to leave comments if you'd like to see more interviews!
SKJAM!