Movie Review: Blue Steel
This is a 1934 Western starring John Wayne, Gabby Hayes and Yakima Canutt.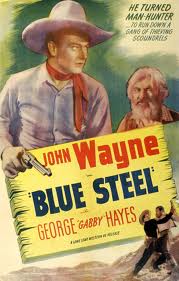 Wayne's character witnesses a safe robbery by the Polka-Dot Bandit.  But Sheriff Hayes witnesses the events just after that, and thinks Wayne is the bandit.  While Wayne trails the bandit and Hayes tags along in hopes Wayne will lead him to the money, they both become involved with the daughter of a murdered store owner.
It turns out the local town is being squeezed dry by an outlaw gang.  They're secretly under the control of a rancher who's found out there's a rich gold deposit under the homesteaders' land.  And it just so happens that the Polka-Dot Bandit's day job is as one of the outlaws.
The sound design is very economical, with little music, and many scenes are nearly silent.  Unfortunately, this applies to some of the dialogue as well.  Bits of comedy are scattered throughout, such as a very shy young man on his honeymoon who hasn't quite figured out what he and his bride are going to be doing in the bridal suite.  The big chase scene at the end is standard of its type, enlivened with some handy dynamite used by the good guys.
The young lady is your standard damsel in distress, needing repeated rescuing.  Her and the Wayne character hooking up at the end is both inevitable and completely baffling.
A quick time-waster, but not something to seek out.