Book Review: Journeyman Wizard by Mary Francis Zambreno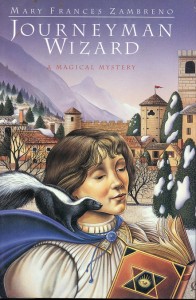 Jermyn Graves is a spellmaker, a rare kind of wizard that can reshape old spells for new purposes, and even create new spells for other wizards to use.  Or rather, he will be once he finishes his journeyman training with the only master spellmaker in the land.  When Jermyn arrives at the isolated village of Land's End, however, he finds that the winter cold is more than matched by a chilly reception from certain people.
Lady Jean Allons' household has been struck by tragedy and family rancor, making for tricky navigation for the young wizard.  When tragedy strikes again,Jermyn must use his training and the help of his skunk familiar Delia to solve the mystery before he himself is condemned to die.
This is the second in a young adult fantasy series about Jermyn, the first being A plague of Sorcerors.  It's a pleasant light read.  While Jermyn is a talented wizard beyond his years, his inexperience shows, and he lets prejudice get the better of him when dealing with a local hedgewitch.  Jermyn's seventeen in the story, but there's nothing that makes it unsuitable for younger teens.
The worst thing I can say about the book is that it's a little forgettable–it wasn't until halfway through that I realized I had read it before and thus already knew who the murderer was.  Check your local library for this and the previous book if student wizards are your cup of tea.