Book Review: Deadly Defiance by William Manchee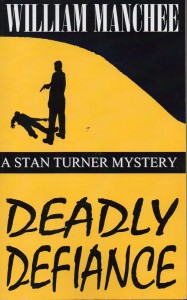 Disclosure:  I received this book as a Goodreads Giveaway on the premise that I would review it.
This is the tenth volume in a series about Stan Turner, a Dallas based attorney for the firm of Turner and Waters.  It's 1995, and the law firm is going through a bit of a financial crunch.  Their current clients don't seem to be likely to help with that much.  First, there's Maureen Thompson, whose bankruptcy filing is put on hold when her estranged husband turns up dead from multiple icepick wounds.   Which might be defensible–except that her first husband died of the same thing!
Then there's the Alvarez family, impoverished immigrants, who are seeking a wrongful death settlement from a notorious sweatshop owner with ties to organized crime.  There's also the search for a missing heir, but the family involved in that doesn't want to pay to have him found–though they might pay Stan to drop the search.
This book is more of a procedural than a fair play mystery, full of filings and legal maneuverings.   And our protagonists aren't exactly squeaky clean; Stan's partner Paula Waters in particular does some questionable things to ensure she'll get paid, which could easily come back to bite her later.  There are some exciting scenes involving a Mexican drug cartel.
I think the book could have used another editorial pass.  The first chapter starts with a paragraph that makes it look as though Stan's wife Rebekah will be doing something in the chapter, but switches gears to Stan's day at the office.  References to previous volumes are shoehorned in (I'd recommend just going with footnotes) Also, there are a couple of apostrophe use typos.    The pacing is better in the later chapters.
A decent read, but overall a little unsatisfying.