Manga Review: Vagabond Volume 1 by Takehiko Inoue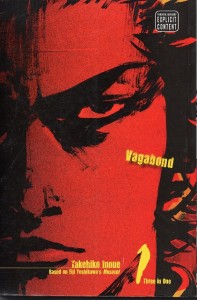 Miyamoto Musashi, author of A Book of Five Rings, was one of the greatest swordsmen of his time (the 1600s) and something of a warrior-philosopher.  He's become a legendary figure, and there have been many fictional accounts of his life in Japanese media.  The most influential of these is Eiji Yoshikawa's Musashi, a novel that created many of the "beats" that subsequent tellings of the story often use.
Vagabond is a manga by Takehiko Inoue, better known for his pioneering basketball manga Slam Dunk.  This Vizbig edition collects three volumes of the series into one thick tome.  There's little of the philosopher part of Musashi's personality in this first book.  Still going by his birth name, Shinmen Takezo, we first meet our protagonist having barely survived the battle of Sekigahara, a conflict in which he notably failed to bring glory to his name.
With fellow survivor and childhood friend Matahachi, he decides to become "invincible under the sun," the best swordsman in all of Japan.  Matahachi, sadly, has a flaw in his character that causes them to part paths and only Takezo returns to their home village of Miyamoto.  As far as most of the villagers are concerned, the wrong soldier came home from the war and Takezo is soon a fugitive again.
An encounter with a particularly hard talking monk helps the young swordsman find his way again.  Although the village has rejected him, he takes the village with him in his new name of Miyamoto Musashi.  He moves to Kyoto, where he challenges the Yoshioka school of swordsmanship and begins a rivalry with the Yoshioka brothers.  Matahachi is also in Kyoto, but has fallen on hard times.
The artwork and action sequences are excellent with reasonably distinctive faces allowing the large cast to remain distinguishable.  There are several color pages, which is a nice treat.
The three-in-one format really helps here, because at this early point in the story, Musashi is not a very likable character.  To be honest, he's an asshole and it's no wonder the villagers don't welcome him home.  While we do see quite a bit of character development for Musashi, he's still very much an asshole by the end of the volume, just one on the path that will lead to his enlightenment.
Matahachi, by contrast, starts more likable but makes bad choices and doesn't learn from his mistakes.
There's quite a bit of gory violence, and some sex scenes.   There's a scene that would be rape by deception, except that the woman is clearly shown to have figured out what was happening before the act.  It should be okay for older teens and up
I recommend this series to fans of samurai drama who have the patience needed to get through the many volumes it will take to get to "the good stuff."  For those with less patience, I recommend the movie trilogy based on the same material that came out a few decades ago.