Anime Review: Shiki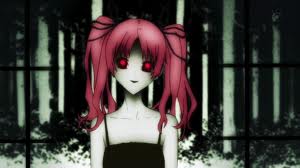 Megumi Shimizu hates living in an isolated mountain town in the middle of nowhere.  She wants to move to the big city with its bright lights and fashion centers.  So she dresses like a fashion model and yearns for the hot big city boy who moved in last year.  She feels unappreciated by the hicks in her village, and wonders if she can get in good with the posh-looking people who just moved into the European-style mansion on the hill.
Yuuki Natsuno hates living in a hick town too.  Ever since his hippie wannabe parents moved the family here, he's been looking forward to getting back out.  He's trying to ignore the crazy stalker girl in the silly outfits, but she's not taking the hint.  At first, he denies that the strange things going on in Sotoba are any of his business.
Dr. Toshio Ozaki doesn't mind living in Sotoba, but he did back when he was a teenager.  Right now, he's got other things on his mind.  Suddenly, a number of villagers are falling ill, suffering from a form of anemia that is invariably fatal.  It doesn't seem to be caused by any known infectious agent, but if it's not a disease, what is it?
Shiki is a horror anime (based on manga) about a small town that is rapidly being taken over by vampires (or "shiki" as they come to be called.)  And when I say "horror", I don't mean just the genre, I mean that it is genuinely horrific.  Both the shiki, who are not all bloodthirsty monsters at heart, and the humans, some of whom are bloodthirsty monsters at heart, find themselves doing anything they must to survive.  There's a lot of blood onscreen, particularly in the second half once the existence of the shiki becomes more generally known.
There are a number of very good bits–the shiki are smart enough to only officially move into the neighborhood after the anemia cases start, to throw off the timeline for anyone who might guess the truth, and quickly replace the government officials who might alert the outside world.  Also, there are different types of shiki with slightly different rules, which hides some of the obvious patterns.  Dr. Ozaki, in turn, proves to be far more resourceful than he first appears.
On the other hand, many of the character designs are silly-looking, particularly some people's hair.  Megumi has the excuse of being a wannabe fashionista, but some of the others–wow.  One of the female vampires dresses in fanservice outfits almost exclusively, although that may be overcompensation on her part.  Some vampire fans may be frustrated by the relatively slow opening; it takes several episodes before the action parts of the plotline kick in.
If you liked Salem's Lot or are a vampire story fan in general, I can recommend this as a good example of the genre.  The gory bits, however, mean that this is not suitable viewing for small children or the sensitive.