Book Review: Persepolis by Marjane Satrapi
Disclaimer:  I received this book through the Rasmussen College One College, One Book program on the premise that I would review it.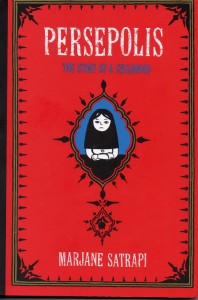 This is the graphic novel memoir of Marjane Satrapi, who was nine years old when her home country of Iran had a revolution and kicked out the Western-backed Shah.  It follows her life from when she was small to about age fourteen, when her parents sent her to school in  Austria for her safety.
As it happens,  her family was far from ordinary, as her great-grandfather had been the Emperor of Persia before he was overthrown by Reza Shah, the father of the Shah that was overthrown in 1979.  Her grandfather had been made Reza Shah's prime minister, but converted to Communism and was treated as a traitor thereafter.  Even so, the family remained relatively wealthy and influential.
Mari (as she is called in the text) and her parents had high hopes for the 1979 Revolution, hoping it would bring the proletariat to power in a socialist republic.  Instead, the Shi'ite fundamentalists took power, and Iran soon became a very different country.  Worse, the things that the revolutionaries most wanted to change from the old regime, imprisonment of dissidents, torture, assassination, only changed in the persons who did them.
All this has a traumatizing effect on young Mari; she sees friends, relatives and random people she meets suffer great injustice, and feels stifled under the new religious restrictions she must obey, even if they are technically not actually laws.  As if all Iran had happening internally was not enough, Saddam Hussein decided that it would be a good time to invade Iran.
Marjane Satrapi does not depict herself as an entire innocent–Mari lies to inflate her self-importance, says hurtful things, and breaks even fair rules.  She has a rebellious spirit that becomes more dangerous to her as she grows older.
The art is black and white, with much use of large black areas.  The creator is a trained illustrator, and it shows.
Trigger warnings for torture, and for off-panel rape.
Because of the subject matter, this book may not be suitable for children, especially sensitive ones, despite being about a child.  I'd rate it as for older teens and up.  There's also an animated movie which combines this volume and Marjane Satrapi's later life, which I have not seen.
This is a book that is valuable for its look into a country many Americans have not heard anything good about in a long time, and a reminder that no culture is monolithic.  There are real people underneath the seemingly united front Iran shows the world.