Manga Review: Weekly Shonen Jump (USA)
It's the first anniversary of my blog!  To celebrate, I thought it would be nice to update the very first review that appeared here.  http://www.skjam.com/2012/12/09/manga-review-shonen-jump-alpha/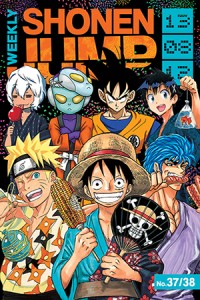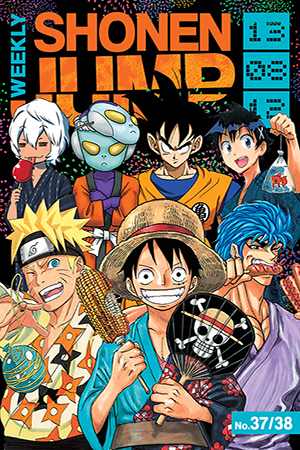 Shounen Jump is still Japan's number one best-selling manga anthology title.  Although the primary market is still middle-school through high school boys, people of all ages and body shapes enjoy these tales of friendship, struggle and victory.  Weekly Shonen Jump is the English language edition, which now has many of the series available online the same day they're legally for sale in Japan.  (Due to a persistent piracy problem, scans of the Japanese version appear online a week early.)
Because of the change to same-day release, the name of the ezine was changed from Shonen Jump Alpha to Weekly Shonen Jump.  Those of you who live outside the U.S.A. will be happy to hear that  Viz (the publishers) have arranged for it to be legally available in most English-speaking countries, and they're working on the rest of the world.
Now, let's take a look at what's currently running.
Weekly
One Piece:  Still Shonen Jump's flagship title.  Young Luffy D. Monkey lives on a world that's mostly water.  He decides he's going to be the Pirate King, and sets out on a voyage to find the mysterious One Piece treasure.  Along the way he gathers a wacky crew and battles evil pirates and the dictatorial World Government.    Having captured the main baddie on Punk Hazard, the Straw Hat Pirates sail to Dressrosa (which looks like a cross between Spain and Toyland) to negotiate with his boss.  Unfortunately, Dressrosa turns out to be a lot more sinister than it looks, and while Luffy is distracted by a gladiatorial contest, the rest of the crew learns dark secrets.
Naruto:   Young Naruto Uzumaki, an outcast in his hidden ninja village, decides that he will one day become the Hokage, leader of the village.  A year later, and we are still on the final battle of the Ninja World War–I don't think even a full day has gone by yet.  It does look like the fight may be winding down within the next year, as all the major players are in one place.
Bleach:  Ichigo Kurosaki, a young man who can see ghosts, finds himself embroiled in the affairs of the otherworldly Soul Reapers who help dead people reach the afterlife.  This one is officially on its final plot arc, with the creator having taken a hiatus to plot out the intricacies of the Vandenreich's attempt to destroy the Soul Society.  Perhaps by this time next year a full day will have passed.
Toriko:  Toriko is a Food Hunter in a world where the more dangerous it is to acquire the food substance, the more delicious it is.  The attack by the evil food organization, along with the emergence of a new even more evil organization, has resulted in a disruption of the ecosystem, leading to mass starvation.  The other heroes have a plan to restore the world that used to be known as Earth, but  they'll need Toriko to help, and he's kind of out of it.
Nisekoi:  False love is the name of the game, as Raku and Chitoge have to pretend to be dating to end a feud between their respective clans.  Meanwhile, Raku made a childhood promise to a girl whose name and face he cannot remember, and there are several girls it could be, including Chitoge.  This very formula romantic comedy continues to play the variations on its central theme.  The main plot development has been the introduction of one character's little sister, who thinks Raku is an enemy of all women, especially her older sister, and doesn't realize Raku's also the mysterious protector she has a crush on.
World Trigger:  Earth is being invaded by creatures called Neighbors from an adjacent dimension.  The secretive agency Border has been formed to fight them.  Osamu Mikumo, a wimpy but goodhearted Border trainee, finds out that new classmate Kuga Yuuma is himself a Neighbor who is on Earth illegally to fulfill the wishes of his late father.  It turns out the Neighbor world political situation is far more complicated than most Earthlings knew.  Currently, our two young men and Chika, a girl whose brother went missing in the Neighbor world, are trying to become full-fledged Border agents.  This series started off very weak, but has greatly improved as it found a direction.
Dragonball Z:  Yes, the one about the mighty Son Goku finding out he's actually an alien and having to battle against increasingly strong threats to humanity.  This is a rerun, but has been colorized and spiffed up a bit for new readers.  I actually preferred the first half of the Dragonball series, but for those who grew up on Z, this is a nostalgia blast.
Monthly
Seraph of the End:   A mysterious "virus" kills 90% of the adults on Earth.   Many of the children are abducted underground by vampires to protect/feed on them.  On the surface, the remaining humans are hunted by monsters, and the Demon Army has to use dangerous possessed weapons to battle them.   Our protagonist was a bitter orphan even before the series began, only bonding with the rest of the orphanage kids moments before the caretakers died of disease, and then the rest of the orphans were murdered in an attempt to escape the vampires.  So he's understandably skeptical of the need for friendship to become a functional member of the Demon Army.  He's kind of a prick, honestly.
Blue Exorcist:  Young delinquent Rin Okumura discovers that he is in fact the son of Satan and thus half-demon.   Rebellious by nature, he refuses to join his father's forces and instead enrolls in a school for exorcists to battle the forces of evil.   Currently, one of the exorcism students has been kidnapped with the assistance of another student who it appears was a spy for the Illuminati all along.  Time for a rescue mission!
Yu-Gi-Oh! Zexal:  Yuma Tsukumo is, in theory, a huge fan of the card game Duel Monsters, despite not knowing anything about the rules or customs of it.  He acquires a not-so-imaginary friend nicknamed Astral who has lost its memories but helps Yuma win duels.  Right now in the manga, it turns out that destroying the Astral World will destroy the human world as well, turning the villains into omnicidal maniacs.  Worse, Astral's original purpose in coming to Earth was to destroy the human world to protect the Astral one….
One Punch Man:  Saitama, an unemployed salaryman, was bored with his life, and decided to become a superhero.  After training so fanatically that his hair fell out, Saitama became a powerful superhero who can defeat any enemy with one punch.   Which again leaves him feeling kind of empty, since there's no challenge in that.   Now he searches for meaning in his life, while monsters and villains need punching.  This superhero parody is surprisingly deep for its simple premise, and has had some of the best action scenes in manga.  Currently, Saitama's best buddy, cyborg Genos, is invited to a meeting of the top heroes and Saitama tags along.
If you like shounen action manga, Shonen Jump Weekly is good value for money.