Comic Book Review: 'Tain't the Meat…It's the Humanity! art by Jack Davis
EC Comics was for a short time a brilliant publisher of crime, SF and especially horror comics in the early 1950s.  One of the things that made them so great was having some of the best artists working in the field at the time.  This book collects several stories artistically rendered by Jack Davis, particularly from the Tales From the Crypt series.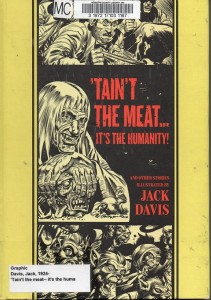 Mr. Davis had a great line in rotting corpses, feral rats and ugly-natured humans.  This is a black and white reprint, which allows his use of strong blacks to be shown to advantage.  (He went on to a long, successful career in other comics areas after horror comics were gutted by the Comics Code.)
EC's horror titles were notorious for their twist endings, and horrible puns.  The title story is no exception, being about a World War Two-era butcher who gets tempted by the money of the black market.  Other standouts include "The Trophy!" about a hunter who only kills animals for bragging rights (two versions, one done originally for a 3-D comic!), "Gas-tly Prospects!' about a murdered prospector that won't stay buried, and "Lower Berth" with (at the time) the most unexpected twist of all.
There's also some biographical material about Mr. Davis, whose life was thankfully nothing like the stories he illustrated.
This is classic stuff, and highly recommended for teenagers and up.  (Some scenes may be a little intense for preteens.)