Book Review: Kiss Your Elbow by Alan Handley
Before Harlequin became the go-to publisher for romance paperbacks, it published other genres as well, primarily trashy crime novels with steamy bits.  As part of the publisher's 60th anniversary, it's reprinting some of these early works, including the one being reviewed here.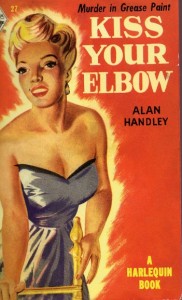 Tim Briscoe is an actor in late 1940s New York City, trying to break into a big-time role so he can finally make it on Broadway or even into the movies.  (Some of the characters speculate that the new television  world will be a good source of income once it's got the bugs worked out.)   But he's not having a lot of luck.  And by the end of the first chapter,  his luck gets worse when he finds his agent dead, with a paperwork spindle through her heart.
The police call it an accident, but Tim removed a vital piece of evidence from the scene, and when a second lethal "accident" occurs, he realizes he'd better find out the truth before he takes a permanent role as a corpse!
Mr. Handley was himself a stage actor and director before moving into television, so his picture of the theatrical world seems at least superficially accurate.  Everyone drinks like a fish (except the alcoholic, who drinks more) and most of them smoke like chimneys as well.  There's backbiting and backstage politics, and too many actors for too few parts.
I should have seen the ending coming, but was distracted for several chapters by one of the characters having too slick of an alibi at one point.  And I'm not even sure the author planned it that way.  Oh, and despite this being before Harlequin was big on romance, there's a romantic subplot as well.
Warning:  There are some ugly Forties attitudes at work, which I can't describe in any detail due to them tying directly to spoilers.  I'm not even going to put them in the tags for safety.  Just be warned that many readers will find certain things distasteful.
Recommended to old-fashioned trashy paperback fans, Harlequin readers, and those who love stories with greasepaint.