Book Review: The Case of the Missing Servant: From the Files of Vish Puri, Most Private Investigatorby Tarquin Hall
Disclosure: I received this book as a Firstreads giveaway on the premise that I would review it.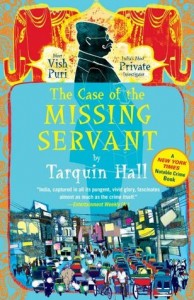 This is the first of a series about Vish Puri, owner and operator of the Most Private Investigations office of New Dehli in India. He's already built a successful business, and bills himself as India's top private detective. While his bread-and-butter is investigating prospective bridegrooms in arranged marriages to determine if they're really suitable (and one of these investigations is a major subplot), he often has more interesting/dangerous cases.

In the present instance, a reform-minded lawyer's servant has gone missing, and the lawyer is being accused of murdering her to cover up an affair. Shortly after Vish Puri takes the case, someone tries to murder him. Can he and his agents figure out what's really going on?

There's lots of local color, including an extensive glossary, but how authentic the book is to the reality of India I will leave to other reviewers. The clash between ancient poverty and new money, the multiplicity of India's religions and languages, and the endemic corruption in the legal system all play strong roles in the story.

I should note that Vish Puri is extremely quirky in addition to being exotic to American and British readers, in much the same fashion as Hercule Poirot. This may come off as excessive to some readers. Also, there are what appear to be prophetic dreams (or heavily intutive ones), which may strike some as not "fair play."

I thoroughly enjoyed this book and would recommend it to fans of eccentric detectives.