Book Review: Jet Set: The People, the Planes, the Glamour, and the Sex in Aviation's Glory Years by William Stadiem
Disclaimer:  I received this book as a Goodreads giveaway on the premise that I would review it.  My copy was an Advance Uncorrected Proof, and there will be considerable changes made to the final product, due to be in stores June 2014.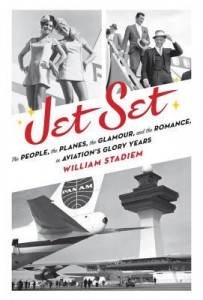 This is a chatty history of the period from 1958, the introduction of the 707 passenger jet, through approximately 1970, the heyday of fast, easy and almost affordable travel between the United States and Europe.  The book opens with an account of the Cháteau de Sully crash in 1962, the worst blow to Atlanta, Georgia's society since General Sherman, as a 707 crashed in Paris with most of the Atlanta Art Association aboard.
But most of the book is less about the ordinary travelers of the period, or even the pilots and crew of the jets.  Instead, we get short biographies of the movers and shakers of the jet aircraft industry and airlines, the glitterati who made up the "Set" even before jets were added, and the various hoteliers, restaurateurs, movie folks and gossip columnists that gave the era much of its glamour.
It's very much a "six degrees" book, with Celebrity A having been married to Model B, who then married Executive C, who attended parties for Movie Star D…There's a lot of name-dropping.  Often, the narrative will flit through three or four different tangents before coming back to the story the chapter is telling.
There was an awful lot of sex going on in the Jet Set, it seems, with many of the people discussed having three or four spouses, and twice as many affairs.   Also a lot of sexism.  While there are stories of a few notable women who managed to beat the odds, becoming successful and influential in the society world, the Jet Set was not a hotbed of the Women's Lib movement, which was going on elsewhere.
By the end of the time period discussed, a number of factors killed off the Jet Set era; skyjacking, inflation, the aging out, imprisonment or death of many playboys, and the youth movement making "cool" more important than "smooth."  The final chapter describes the fate of many of the main people discussed.
There's a scattering of black and white photos, and in the finished product there will be a bibliography and index.
The book's style tends towards the gossipy, with more sober chunks interspersed.   I'd recommend it more for the casual reader who is nostalgic for the era, or would like to know what it was all about,  than the serious scholar.