Comic Book Review: The Sixth Gun Book 1: Cold Dead Fingers written by Cullen Bunn, illustrated by Brian Hurtt
Becky Montcrief's stepfather is dying.  But the men who've come to their remote homestead aren't willing to wait for him to finish.  It seems he's been hiding a gun all these years, and they want it enough to kill for it.   In the heat of the moment after her Pa's death, Becky grabs the gun and uses it.  This means the owlhoots now can't take it until she's dead, so they take her to their boss.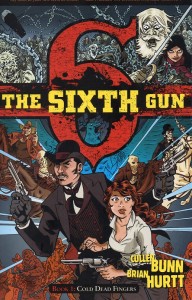 Meanwhile, a man named Drake Sinclair is also looking for that gun, and he is no saint either.  He's a step behind the owlhoots, and has to enter the enemy's lair to retrieve the gun, and while he's at it Becky.  It turns out her gun is one of a set of six, each with an eerie power,  which used to be owned by an insane Confederate general and his henchmen.  General Hume is dead, but he's getting better, and he wants his gun back, no matter who stands in the way.
Soon Becky, Drake and Drake's partner, gambler Billjohn O'Henry, are being chased down by Hume's ghastly army.  But Becky's gun is showing her things she'd rather not see, such as Drake's dark past, and General Hume's plans once he gets all six guns.
This series is a hybrid of Western action and horror, which meshes pretty well, all things considered.  The various powers of the guns, and the other supernatural occurrences, make for some great visuals.  The immediate threat is dealt with by the end of this volume, but enough plot threads are kept dangling to keep the story going strong.  (The artist told me the final volume should be out sometime next year.)
Becky is a bit naive at the beginning of the story, but soon becomes a survivor (it helps that her Pa taught her how to shoot.)  Drake's character development is told mostly in flashback, he once willingly served Hume, but is a somewhat better man these days.  The bad guys are perhaps a little one-note, but part of the theme of the story is that they have been warped by their weapons, losing the parts of their original personalities that don't involve killing people.
Given the genres, there's a lot of gruesome violence and body horror.  At one point, there's a technically naked woman, but she's so drenched in blood that nothing shows.  Surprisingly little cussing, and some mild period sexism.  I'd say suitable for senior high students and up, maybe a bit younger for fans with morbid tastes.
Fans of the Jonah Hex series (especially the more outre storylines) and the works of Joe R. Lansdale should find this entertaining.