Book Review: Tigerman by Nick Harkaway
Disclaimer:  I received an uncorrected proof of this book as a Goodreads giveaway on the premise that I would review it.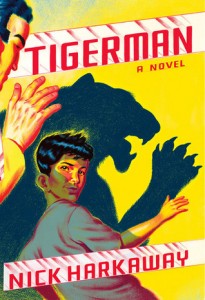 Mancreu is dying.  This island in the Arabian Sea was once a quiet backwater, last colonized by the British Empire.   But a combination of industrial waste and volcanic activity have made the island a biohazardous ecodisaster waiting to happen.  A UN mission is just waiting for the final orders to evacuate the locals, and the British government has sent a final Brevet Consul to be the last watchman.
That man is Sergeant Lester Ferris, late of the British army in Afghanistan, a light duty for a man who's seen too much war.  It's a quiet post, having tea in the afternoon, making friends with a comic book-loving local boy, settling minor disputes and bidding farewell as those who choose to leave the island early trickle away.  And of course he very deliberately does not notice the Fleet of ships offshore, the ones who are taking advantage of a legal black hole to do things not allowed on land or sea.
But murder comes calling on Mancreu, and the situation seems to need something more than diplomacy.  It needs a hero straight out of the comics, larger than life and gifted with strange abilities.  Lester Ferris could be that hero, if he is willing to become Tigerman.
Good stuff:  The pacing of the book never feels rushed, without being too drawn out.  Even in the early expository bits, it doesn't feel too slow or sloggish.  There are some lovely turns of phrase, justified by most of the people on the island having learned English from movies, and thus talking like characters, and by the atmosphere of Mancreu making everyone a little crazy.
Sergeant Ferris becoming Tigerman is almost plausible; he has "a very particular set of skills", access to all sorts of interesting equipment, and just enough odd coincidences happening to him that he can believe this is something that needs doing.
The book managed to blindside me with a twist towards the end that's not entirely original, but works well here.
Not so good stuff:  While I realize that American pop culture has steamrollered the world's imagination, the fact that a British man in his forties makes no references whatsoever to British pop culture is weird.  I know for a fact that there is a long tradition of British comic books–Billy the Cat would seem to be an appropriate thing for Sergeant Ferris to think of when he becomes Tigerman.  But no, it's American comics, American TV and movies.  I have to wonder if this book were deliberately written to appeal to American readers who might not get the references.
Some readers may find the "quirky" a little too thick for their tastes.
The book is due for official release 7/29/14.  I would recommend it for those seeking something a bit more "modern literature-like" in their superhero fiction.