I have completed all the coursework for an Associate's in Business Management from Rasmussen College.  (I got a 98% in Microeconomics!)  So I should be receiving my hard copy of the diploma soon.  Also, I am available for employment in the customer service field for a company that has room for advancement.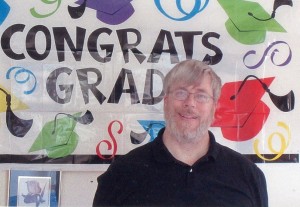 I went home for the weekend to celebrate this and my birthday with my family.  It was good to see all of them, including my Uncle Dwight, whose schedule is not easy to coordinate with anyone else's.  The family will probably be reusing this banner at Christmas, as my oldest niece is due to finish her bachelor degree in Diversity Studies at that point.
Are you continuing your education, by formal schooling or self-improvement?  Do you remember any books you read for school that still are favorites today?
eta:  Rasmussen has asked that I plug their business management program, so here's a link to that: http://www.rasmussen.edu/degrees/business/business-management/  Enjoy!