Comic Book Review: Top 10: The Forty-Niners written by Alan Moore, art by Gene Ha
In an alternate America with science heroes and other weird or wonderful "characters", it's been decided to move everyone who isn't "normal" to one city, Neopolis.  It's 1949, and war veterans Jetlad and Sky Witch are reunited on the relocation train.  The new city is bursting at the seams with the continuing arrivals, and crime is on the rise.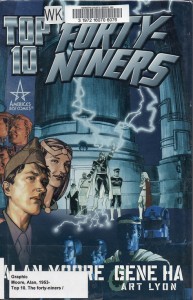 Jetlad, whose real name is Steve Traynor, finds a mechanic job with the Sky Sharks, an aerial team that themselves are at something of loose ends with the end of the war.  Leni Muller, the Sky Witch (who'd defected from Germany during the war) winds up joining the understaffed police department.
In addition to the usual random street crime, there's a lot of prejudice against the mechanical-American minority (vulgarly called "clickers",) something is up with the Nazi scientists the U.S. has kept away from the Russians, and vampire gangsters are taking over the city's rackets.  Although a romance is blooming, the climax is a major battle to determine just who the law is in Neopolis. and who it will serve.
This is a prequel to the Top 10 series by the same creative team, and fills in some of the background of the city seen there.  As with the original series, some of the characters are thinly-veiled versions of well-known comic book and comic strip characters.  Centrally to this volume, Jetlad and Sky Witch are takeoffs of classic characters Airboy and Valkyrie.  (Airboy was also used in the Wild Cards series under another alias.)  The Sky Sharks are the Blackhawks, and other characters are pretty obvious to fans of the original material.
Gene Ha also puts in many background cameos and sign references, readers can have hours of fun trying to spot and identify them all.  The coloring also deserves a mention, using sepia tones for a nostalgic feel.
The writing, as expected from Alan Moore, is good, but tends to dip into some of his favorite themes, which had gone a bit stale by the time this series appeared.  There's a fair amount of seamy sexual content (including a vampire brothel) which makes this volume unsuitable for younger readers.  (I'd put it senior high and up.)
If you enjoyed the main Top 10 series, this is a good addition to that.  Otherwise, I recommend this most to older comic book fans who will get the references and are able to handle the seamier aspects.