Movie Review: JLA Adventures: Trapped in Time
The Legion of Doom's latest plan has been thwarted by the Justice League of America, and Lex Luthor is trapped in ice for a thousand years.  He's accidentally unleashed by two teenage heroes of the 31st Century, Karate Kid and Dawnstar.  Luthor promptly steals an hourglass that controls the power of the Time Trapper, and comes up with a new plan–get rid of Superman on the day he came to Earth, and the Justice League will never come to be!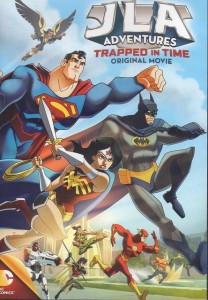 This movie was commissioned by Target to tie into their new line of JLA toys, so it's more kid-friendly  than some of the other recent DC Comics animated fare that's aimed at teens and up.  It's not in any previous continuity, blending aspects of the New 52 (the costumes, the lineup of the Justice League minus Green Lantern) and the Super Friends (Robin is on the team, the Legion of Doom's rather silly plans, the two teen trainee heroes.)
Most of the League has rather flat characterization–Robin at least gets to be sarcastic.   Dawnstar and Karate Kid are the actual stars of the show.  They've swapped personalities somewhat from their classic portrayals–KK is brash and impulsive (and wears a costume reminiscent both of Super Friends character Samurai, and of the Avatar: The Last Airbender series. ) Dawnstar is introverted and a bit timid (and has vaguely-defined light powers in addition to her normal tracking and flight.)
The Legion of Doom gets to have a bit more fun in their parts, particularly Bizarro and Solomon Grundy.  The guest villain, Time Trapper, is appropriately spooky, foreshadowing that it's much more dangerous than Lex Luthor realizes.
As mentioned above, this short film is pretty family-friendly.  There's fantasy violence, but no one is permanently hurt, no foul language, and no sexual innuendo.  Karate Kid and Dawnstar make mistakes, and learn a valuable life lesson.
Two short Super Friends episodes are also included on the DVD, both with time-related stories.  They make the main feature look good by comparison.
I'd recommend this for Super Friends fans, and families with kids who enjoy superhero cartoons.