Book Review: First Polish Reader (Volume 2) by Wiktor Kopernikas
Disclaimer:  I received this book as a Goodreads giveaway on the premise that I would review it.
This is a book of simple stories in both Polish and English, designed to help students learn to read Polish.  It's printed by Language Practice Publishing, and uses something called the ALARM (Approved Learning Automatic Remembering Method) which relies on repeating words to build vocabulary.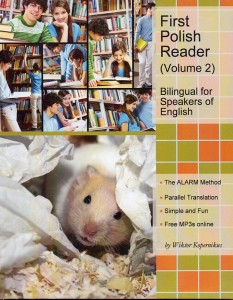 There is no pronunciation guide, as this is not a basic textbook, but it lists the new words from each story, and at the back there are both Polish/English and English/Polish glossaries.  There will be audio tracks of the chapters available on lppbooks.com, but as of this writing only the first volume's tracks are up.
The stories themselves are simple, and mildly amusing, starting with pet stories and building from there.  For the most part, they avoid slang and phrases that don't translate literally.  However, there is one major exception.  In the story "Tort", an eight year old tries to bake a cake.  One of the ingredients is kulinarnym klejem, "culinary glue."  She mistakenly puts in wood glue instead.  However, the term we would use in English is "shortening" which would not lead to such a mistake.
The book does what it is written to do, but is not an exceptional volume of its kind.  Check with your Polish teacher to see if this is an acceptable supplement to your language learning.