TV Review: Sheriff of Cochise/United States Marshal | The Lone Wolf
Frank Morgan (John Bromfield) was the Sheriff of Cochise County in Arizona and then became a United States Marshal in a series that ran from 1956 to 1960.  While the show was Western-flavored, it was more police procedural than cowboy show.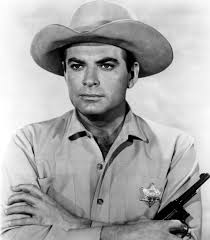 I watched four episodes, two from the first part and two from after the retool, on DVD.
"The Red-Headed Visitor"  An auto mechanic is missing, and turns up murdered.  Suspicion initially rests on his pharmacist brother in law, with whom he'd quarreled, but the sheriff suddenly realizes that a tourist at a local resort is a known criminal.   The audience knows this from the beginning, as we see the redhead buy blond hair dye, and the mechanic make a gesture that disparages the visitor's masculinity.
"Bank Robbery"  Exactly what it sounds like.  Two clever robbers have hit several banks, but take a little too long to case their next job.  This makes the tellers suspicious, and the sheriff comes up with a trap.  Neither plan goes right, but this is a cop show.
"Rest In Peace"  A guard implicated in an armored car robbery is shot and left for dead.  Things get complicated at the hospital when two women show up, both claiming to be his wife.  (One of them is lying.)  In a desperate attempt to escape, the criminals kidnap a deputy marshal.
"The Diner"  Two escaped convicts try to track down a third member of their gang who they believe is holding out money on them.  It turns into a hostage situation which predictably doesn't end well for them.  The diner of the title appears at the beginning; the cook is an ex-con the escapees pump for information.
It's an average TV show of its period, most interesting for its time capsule qualities and the fact that it was largely shot in Bisbee, Arizona and locals can probably spot many of the buildings.
The Lone Wolf was Michael Lanyard, a jewel thief turned private detective.  He was created in 1914 by Louis Joseph Vance, starred in a number of books, and then over twenty movies and a radio show.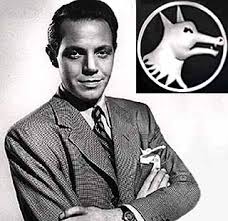 What we're concerned with here is the television show, with Louis Hayward as the title character, which ran 1954-1955 and also ran in syndication as Streets of Danger.  None of the episodes I saw mentioned the jewel thief past, although it was clear there was some shadiness.  This version carried a unique medallion that served as his calling card.  The DVD had five episodes.
"The Las Vegas Story"  The Lone Wolf is hired to find a man who'd been falsely accused of murder and convince him to come in for a trial.  It's more complicated than that.  Highlights include DeForest Kelly as a murder victim, and a tense but overlong chase scene set inside Hoover Dam (I'm guessing they had to pay big bucks for the location shoot and decided to milk it.)
"The Beverly Hills Story"  Michael Lanyard is surprised to discover that he is now a married man, although he does have a gap in his memories of Reno.  Mrs. Lanyard certainly knows more about him than she should!  The real game is blackmail.
"The Oil Story"  The Lone Wolf is called to Oklahoma.  It seems a violent criminal has kidnapped his son from his ex-wife.  Lanyard goes undercover as a roughneck (badly, he doesn't have the hands of an oil worker) and seeks out the rest of the story.  The father has a black servant who looks embarrassed to be in this role, like the actor was desperate for a paycheck and this was the best work he could find.
"The Karachi Story"  Most of the story takes place in India, as the leader of a religious group has asked Lanyard to protect his son.  Seems there are two factions in the sect, the one that builds hospitals and soup kitchens, and the one that wants to spend all the money improving the living standards of the priests.  All well and good, but there are also two Michael Lanyards!  Identity confusion abounds.  All the South Asian people are played by white Americans in brownface.
"The Stamp Story"  A valuable stamp has gone missing, believed stolen, and Lanyard is called in to find it for the mysterious collector "Deep River."  Much fun is had with the antics of an eccentric stamp dealer and another stamp collector who's blind.  The blind man's daughter has a rare hairstyle, I don't know the actual name, but it frosts the forelocks into curly horn shapes.
Mr. Hayward portrays the Lone Wolf as a bit cynical, willing to flirt with women but seldom going further, and a vicious in-fighter.  The series is old-fashioned, but has its charms.