Magazine Review: Thought Notebook June 2014 edited by Kat Lahr
Disclaimer:  I received this magazine as a Goodreads giveaway on the premise that I would review it.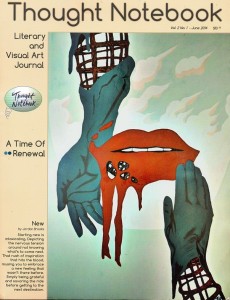 This is subtitled "Literary and Visual Art Journal", which means that in addition to poetry, short fiction and essays, it has a lot of pictures.  The theme of this issue is "A Time of Renewal" and it groups the pieces by key words that relate to the theme, such as "Restoration" and "Awakening."
Each piece is accompanied by a small blurb tangentially related to it.  They range from interesting to trite.  The art is serviceable, but none of the pieces really popped for me.  Of the written bits, I was most struck by two pieces by Skeeze Whitlow about his alcoholism and recovery from same; and a brief essay by Marcie Gainer discussing Andrei Tarkovsky's last three films.  Also of interest was an interview with poet and vocalist Shanara.
There's a strong emphasis on the importance of creativity, thought and spirituality in the overall choice of pieces.  I find it somewhat more accessible than other journals I've read.
I'm going to plug a couple of the journal's projects that might be of interest to readers–Project Teen Voice www.thoughtcollection.org/teenproject and Healthcare Reform Research Project www.thoughtcollection.org/hcr