TV Review: Lock-Up
Lock-Up was a 1959-1961 crime drama loosely based on the files of real-life attorney Herbert L. Maris.  Mr. Maris was played by Macdonald Carey, and John Doucette played police lieutenant Jim Weston, depicted as Maris' best friend.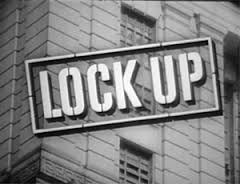 Herbert Maris was actually a specialist in corporate law who sometimes championed people who'd been unjustly accused of crime on a pro bono basis.  As such, there are no courtroom scenes; Mr. Maris attempts to prove the accused person innocent before a trial begins.
The Mill Creek DVD had eight episodes, four of which are of special interest.  "The Case of Joe Slade" has the protagonists go on a fishing trip, only to discover that their guide is locked up for killing his wife.  Lon Chaney, Jr. guest stars as a sheriff who's just a little too eager to have the case closed.
"The Beau and Arrow Case" has a psychiatrist murdered with an arrow.  The twist is that Mr. Maris himself  is accused of the crime!  The main suspect, however, is an archery range owner and the doctor's patient.    This episode was written by Robert Bloch, and is quite tense.  It does rely, however, on the coroner not looking too closely.
"Society Doctor" is another man accused of killing his wealthy wife.  There are several people with motives, and the waters are muddied by one person's persistent lies.  Jackie Coogan is comic relief as the doctor's drunken brother in law–but was he really passed out during the time of the crime?
"The Case of Nan Havens" has a young woman caught with microfilm of experimental military hardware in her car.  Mr. Maris must prove that she was the innocent dupe of real spies with the aid of a wisecracking drive-in waitress.  Mary Tyler Moore guest-stars.
It's very much a period piece–Red spies in two episodes, smoking, and several of the stories have plot points about women having to rely on husbands for money.   There's even a juvenile delinquency story.  Mr. Maris and Lieutenant Weston often flirt with women in ways that might be considered unprofessional today.
Keeping that in mind, the fun guest stars and the interesting writing make this something worth a watch.