Book Review: Consumed by David Cronenberg
Disclaimer:  I received this book as a Goodreads giveaway on the premise that I would review it.  The copy I read was an uncorrected proof, and changes may be made in the final product.
Naomi and Nathan are photojournalists, specializing in lurid crime and medical stories respectively.  They're what my generation called "hip" and up to date with all the latest technology.  The two are in a mostly stable relationship, though they spend little time together, snatching moments of intimacy when their paths cross.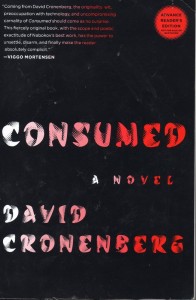 As the story begins, Nathan is doing a story on breast surgery in Budapest, while Naomi has fastened on a news item about a French philosophy professor who has apparently killed and eaten his wife.  Their investigations lead them further apart physically, one to Canada and the other to Japan, but the stories they pursue are more closely intertwined than they could have guessed.
Mr. Cronenberg is, of course, a famous movie director, with credits like The Fly, The Dead Zone and Cosmopolis.  This is his first published novel, cue out in September 2014.
There's a lot of brand name dropping, and technological fetishism; it's very "now", which makes me suspect that in twenty years' time, the book will have aged badly.  But at this point in time, it's still fresh.
It's hard to pin down a genre here–let's say somewhere between psychological thriller and techno-thriller, with the meaning of and reasons for much of what's going on left obscure until very near the end.
Naomi and Nathan aren't particularly likable protagonists.  They're self-absorbed, low on journalistic ethics, and have a habit of letting their story subjects co-opt them.  Nathan makes a particularly horrible mistake early on which screws up their relationship.  Naomi is confronted more than once with her lack of cultural depth.  On the other hand, better people wouldn't have gotten into the fixes they do, which are essential to moving the story along.
Some readers are likely to find this book intensely creepy, as there are themes of cannibalism, deformity, insanity, bodily infirmity, insects and disease throughout.   There's also a lot of talk about sex, even outside the sex scenes.
I found the ending less than satisfying–the story answers a few of the questions, then abruptly stops with a final mind screw and the actual fates of several people up in the air.
If you're a big fan of Cronenberg movies, this bears a strong resemblance to one of them, and is likely to please.  People with weak stomachs should skip this book.
This may be fixed in the final version, but there's a use of Japanese honorifics that will be teeth-grinding for those who've studied the language–and since both characters in the scene are native speakers of Japanese, they don't have any excuse.