TV Review: Martin Kane, Private Eye
Martin Kane was a fairly standard private eye appearing on radio and television 1949-1951.  He was played by four actors on TV,  William Gargan, Lloyd Nolan, Lee Tracy and Mark Stevens, each with their own characterization, from mellow cynicism to outright rudeness.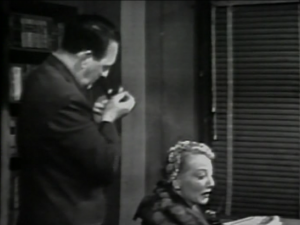 The most notable thing about the program is that it was sponsored  by U.S. Tobacco, so instead of smoking just being a habit of the characters, it was a central theme.  Kane loves him some Old Briar pipe tobacco, and there are lovingly shot sequences of him stuffing his pipe and lighting it.  In addition, there is always a scene set in the local tobacconist's shop, staffed by Happy McMann (Walter Kinsella), who both helps recap the plot and shills for U.S. Tobacco.
I watched five episodes of the TV show on DVD.
"Altered Will":  A wealthy inventor is murdered, and it's obvious his will was altered.  But the person it was altered in favor of couldn't possibly have been the murderer.  Could they?
"A Jockey Is Murdered":  Martin Kane is asked to get a loan shark off a jockey's back.  When the jockey turns up dead after he loses a race, the loan shark is about the only person who doesn't have a motive.  The solution depends on a trivia point about racetracks that I was unaware of, due to never having been to one.  (And I am not sure it still applies.)
"A Crooner Is Murdered":  A singer is killed in front of a crowded nightclub.  Turns out lots of people had good reasons to want him dead, including the person who actually wrote all his songs.   There's a small bit with a particularly misogynistic bartender.  (On average, Mr. Kane is condescending to dames himself.)
"The Black Pearls"  Martin Kane is lured down to Florida to take the rap for a millionaire's murder, involving the title rare luxuries.  He manages to turn the tables, of course.  Has an interesting murder method.
"The Comic Strip Killer":  An eccentric comic strip artist is basing his plotline on a recent unsolved murder.   Basing it a little too closely for the comfort of the real people involved in the case.   They hire Martin Kane to find out where the artist is getting his information.  Both the artist and his guru are murdered before Kane can get the proof, but comic strips from beyond the grave give the final clue.  Kane is at his rudest here, calling the guru a fraud to his face.
A sixth episode, "The District Attorney Killer" is listed on the DVD, but it turned out to be another copy of the comic strip story.
The comic strip episode is the most interesting, otherwise it's a fairly generic show.  The audience that might be best pleased is smokers who sorely miss the sensual treatment of tobacco on TV shows.