Comic Book Review: The Shadow Hero Story by Gene Luen Yang, Art by Sonny Liew
It is the 1930s, and Hank Chu lives in the Chinatown neighborhood of San Incendio.  He wants a simple, quiet life, working with his father in the family grocery store.  Hank's mother, on the other hand, has bigger plans.  She's learned about this new phenomenon called "superheroes" and sees no reason why a Chinese-American kid couldn't be one.  Specifically Hank.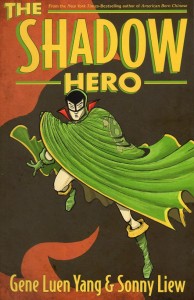 Despite Hank's reluctance, his mother drags him into a quest to become a costumed superhero, the Golden Man of Bravery.  It doesn't work out that well.  But in the wake of tragedy, Hank discovers that he has an amazing legacy after all,  and a new purpose in life.  It's possible that the Green Turtle may be able to do some good after all.
This book came about because Gene Luen Yang, creator of Boxers & Saints, learned about an obscure Golden Age comic book character named the Green Turtle.  An artist named Chu Hing created him as a feature for Blazing Comics.  The short-lived series had a number of peculiarities to it.  Although the Green Turtle operated in China against the Japanese invaders, and had Chinese elements to his costume, it was implied he wasn't from China.  His face was never fully seen, either turned away from the reader, or covered by something.  And the Green Turtle kept promising to reveal how he became a costumed hero, but was always interrupted.
This created suspicion among comics scholars that Chu Hing intended for the Green Turtle to be of Chinese ancestry, but was not allowed to make this overt by his company's editorial policy.  Sadly, Chu Hing died in obscurity long before anyone thought to ask.
So, in a feat worthy of Roy Thomas, Gene Luen Yang decided to take the fragments of information available, and weave them into a tale of America's first Chinese-American superhero.
A great deal of humor and sadness is woven into the action.  A major theme of the story is that appearances can be deceptive.  Hank's father is not a coward,  Red Center is not a helpless maiden, Ten Grand is not a vaudeville version of Fu Manchu, and a naked face can be the best mask of all.  Hank's mother moves the early part of the story with her tendency to judge by appearances, and her yearning for more than the disappointments her life has offered.
Hank himself must learn how to be a hero; powers and martial arts training help, and so does motivation, but in the end he must choose wisely and justly to be a true hero.
Racism, both overt and unintentional, is a recurring problem in the setting.  Even Green Turtle's police contact, Detective Lawful, is not as free of prejudice as he'd like to be.  There's also some crude sexual references, so parents may want to screen the book before allowing readers below junior high or so to read it  Certainly they will want to talk to their children about inappropriate language and behavior modeled by some of the characters.
That said, this is a worthy addition to the ranks of still rare Asian-American superheroic fiction.  I highly recommend it to comics fans looking for something a little different.