Movie Review: Woochi the Demon Slayer
Jeon Woo-chi likes to call himself a Tao master, but he's more like a Tao apprentice who's got lots of tricks, but not much real mastery, still relying on props to perform his magic.   Woo-chi doesn't take his studies very seriously either, wandering around 1500s Korea pranking the king and rescuing pretty women.   He's also not very nice to his faithful dog/horse/man sidekick, Chorangyi.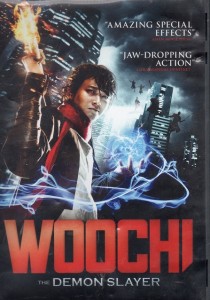 Meanwhile, three bumbling Taoist "gods" have accidentally released monsters into the world, and are trying to track down a magical flute that can fix the problem.  The story lines collide when a rival Taoist wizard frames Woo-chi for the murder of his teacher, and the bumbling trio seal the young man and his sidekick inside a magical scroll without realizing he has half of the Flute.
Five hundred years later, the monsters are on the move again, and Woo-chi is reluctantly released from the scroll to deal with them.  Complicating matters is that the woman Woo-chi saved during his first lifetime has apparently been reincarnated in the present day with no memory of him.  Action and comedy ensue.
This Korean film has a misleading American title, as at no time does Woo-chi slay demons.  A closer approximation of the Korean title would be Jeon Woo-chi: The Taoist Wizard.  It's a big-budget film by Korean standards, full of monsters, transformations and wire-fu battles.  The director very much modeled the story (loosely based on Korean legends) on superhero films.
The plot is pretty shallow; character development is mostly people just accepting who they are, or accepting that Woo-chi is the person he is.  The comedy bits are broad, some slapstick, goofy personalities, and crude sexual yearnings on the part of Chorangyi.  No existential brooding here!
Roles for women are less than progressive; the female lead specifically scorns intellectual achievement and productive skills; other notable women are a prima donna actress whose acting skills are dubious, a superstitious servant, and bad guys in disguise.
One of the deleted scenes is interesting for showing an entire subplot which has the moral, "if a supernatural being keeps saying 'there is a knife in the money' don't take the money!"
It's a fun popcorn movie, worth a cheap rental, but not a great example of Korean cinema.