Book Review: Chasing Jenny by Jeff Stage
Disclaimer:  I received this book as a Goodreads giveaway on the grounds that I would review it.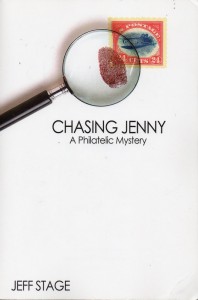 The "inverted Jenny" is a real-life stamp; a misprint where a plane is flying upside-down.  Only 100 of them got out to the public before the mistake was discovered, so they are some of the most sought after stamps in the world.  Four of them were stolen in 1955, the case was never solved, and two of the stamps remain missing.
In this novel, unemployed journalist and enthusiastic philatelist (stamp collector)  Miles is initially disbelieving when a woman tells him that she might know where a stamp matching the description of an inverted Jenny is, then fascinated enough to help her look for it.  What they don't know is that other people are also looking for the stamp,  people who are willing to kill for it.
The early parts of the story are told anachronistically, with a prologue that doesn't seem to be attached to anything for most of the book, and the chapters bouncing between the present, 1918, 1944 and 1955.  The protagonist doesn't even show up until chapter five.
While the subject is interesting, this book is clearly both a first novel, and self-published.   Miles bears a strong resemblance to author Jeff Stage, for starters.  The pacing is clumsy, with parts of the story more resembling Wikipedia page infodumps than prose narrative.  The main villain's plan is vastly over-complicated, especially as (as his accomplice points out) he has a way to accomplish the same thing without any need for violence or breaking his word.
Additionally, there are a number of spellchecker typos, and the formatting is poor.  For the second edition, if any, I would recommend reducing the line spacing and increasing the font size; this will allow better readability without increasing the page length.
All that said, the subject is interesting, and there are some thrilling bits.  The author includes an explanation of which bits were fictionalized (an island is made bigger for plot purposes, for example.)  By the by, the Post Office issued a commemortative edition of inverted Jennys in 2013; there should still be some on sale.
I'd recommend this book for stamp collectors who also like thrillers.