Movie Review: Private Buckaroo
When bandleader and trumpeter Harry James (playing himself) is drafted, his entire band enlists to accompany him.   However, his main vocalist, Lon Prentice (Dick Foran) is initially classified 4-F due to a foot problem.  One visit to the doctor later, Lon is cured and can enlist with the other fellows.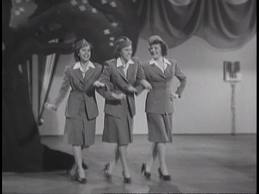 However, the vain Lon is already an expert shot and finds most Army training and menial duties below him.  To everyone else's surprise, the base commander (Ernest Truex) gives the order that Lon is excused from any training or duties he doesn't want to do.  At first, he doesn't mind, even though his fellow trainees are giving him the stinkeye when they get saddled with his guard rotations.  It's not until Lon learns that he won't be shipping out with the rest of the boys, but assigned to a rear echelon desk job that his attitude changes.
Meanwhile, First Sergeant "Muggsy" Shavel (Shemp Howard) is in a rocky relationship with his fiancee Bonnie-Belle Schlopkiss (Mary Wickes).  Not only is she rather shrewish, but USO entertainer Lancelot Pringle McBiff (Joe E. Lewis) is making time with her, and she doesn't seem at all reluctant.
This 1942 musical is essentially a recruiting film for the Army put out by Universal Studios.  In addition to the above mentioned entertainers, the Andrews Sisters feature heavily.  The more unpleasant aspects of boot camp are skipped over entirely, and it ends with a montage of our brave boys shipping out.
There's a fair amount of slapstick humor, with Sergeant Shavel taking the brunt of most of it.  The fact that Bonnie-Belle is the dominant one in their relationship is played for laughs, but the domestic violence won't play as well with a modern audience.  There's also some period slurs against the Japanese, in keeping with the subject matter.
As part of the mildly military aspect, the base commanders' nieces have pretty much free run, especially precocious tyke Tagalong (Susan Levine), who gets some of the best lines.
The musical numbers are well worth seeing, but the previously mentioned content may make it a no-go for younger viewers without parental guidance.
Here's a trailer for the movie.