Book Review: Death of a King: The Real Story of Dr. Martin Luther King Jr.'s Final Year by Tavis Smiley with David Ritz
Disclaimer:  I received this book as a Goodreads giveaway on the premise that I would review it.  My copy was an advanced reading copy, and the final product (due out September 2014) will have some changes, including a full index.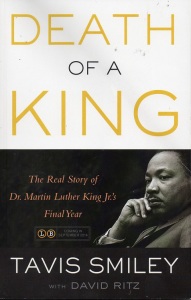 This book covers the last year of Dr. Martin Luther King's life, from April 4, 1967 to April 4, 1968.  It focuses strongly on Dr. King's state of mind and thoughts as the year progresses (based on his own words and the memories of his friends and family), with a few digressions to important past events.  As a way to make it feel more personal, the writers refer to him as "Doc," the nickname his friends called him.
It was a tumultuous year, and not a high point in Dr. King's life.  It opens with his speech coming out publicly against the Vietnam War, still a deeply unpopular position at the time.  He also worked to widen his civil rights focus to concentrate on the problem of systemic poverty, which cost him support among his followers who felt he should stick to racial issues.  In addition, he was being challenged by younger black leaders who favored the threat (and actual use if necessary) of violence to get their way.
According to this book, during this time Dr. King struggled with issues of depression, his marital infidelity, ill health and private moments when alcohol caused him to lose control of his temper.  But the dark night of the soul was not his only concern, and it talks of his preaching, of his willingness to reach out to his critics and enemies to learn their viewpoints, and of his desire to serve.
Towards the end of the book, it creates a refrain with the end of each chapter leading towards Memphis.  That city's callous attitude towards its sanitation workers, which had led to the entirely preventable death of two of them, had become intolerable, and led to a strike.   Dr. King was there to elevate the strike into the national spotlight, and to help bring the city to the negotiating table.  But instead, he was assassinated.
This is by no means a complete biography, nor is it meant to be.  Younger readers, or those reading about Dr. King for the first time, will want to read a more general biography first.  That said, the book strongly evokes a particular time in American history, and an important figure in that history.  Snippets of favorite songs and Dr. King's famous speeches set the tone.
The writing style is intimate, but easy to follow, and moves along quickly.
Recommended to those who want to know more about Dr. Martin Luther King, Jr., the late 1960s, and the Civil Rights movement.  Parents should be aware that due to its subject matter, some racist language is used in quotes.