Movie Review: Reet, Petite and Gone
Years ago, Schuyler Jarvis (Louis Jordan) was a young entertainer who fell in love with a woman named Lovey Lynn (Bea Griffith.)  She liked him plenty too, but her mother disapproved because Jarvis was a poor man, and forced Lovey to break off the affair.  Lovey was married to a wealthy gentleman and had a daughter named Honey Carter (also Bea Griffith) while Jarvis married some other woman and had a son named Louis Jarvis (also Louis Jordan.)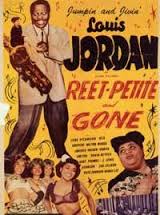 Lovey passed some time back, and Schuyler, now quite wealthy in his own right, is on his deathbed.   He's determined to marry his bandleader son to Honey, and sets up his will to ensure this by specifying the exact physical dimensions of the woman Louis must marry to inherit the dough.
Crooked lawyer Henry Talbot (Lorenzo Tucker) sees an opportunity to profit and alters the will to make it appear that the required woman matches the description of his secretary Rusty (Vanita Smythe.)  He also heads off Honey and her friend June (June Richmond) at the airport, attempting to get them to fly back to New Orleans.  (June is a savvy woman and keeps the bribe he gives them so the girls can use it as the first month's rent on an apartment.)
Talbot initially gets away with it because Schuyler passes away before Louis can get back from the radio station he's performing at.  He's repulsed by Rusty and wonders if perhaps he can skip the inheritance.  His manager Sam Adams (Milton Woods) reminds him that they're about to put on a Broadway show, and the money would sure come in handy.  Then the show biz men get an idea.   They'll scout for another woman with the same dimensions as Rusty but more palatable by claiming it's a beauty contest/audition for the show.
This doesn't go so well, apparently Rusty is unique among women.  However, Honey hasn't been able to find a job and winds up at the Jarvis mansion to audition.   She doesn't match the altered criteria either, but she's able to remind Louis of who she is, and the two hit it off well.
Talbot manages to get one of the show's backers to bail out, now making it absolutely essential for Louis to inherit if he doesn't want to close the show before opening and become box office poison.  Things are looking pretty dire, and Louis must make his marriage decision before midnight.  At the last moment, Dolph the aged butler (David Bethea) reveals that he's been holding a trump card….
This is another "race" picture,  where the cast and crew are all black, designed to air in segregated theaters.    This gave actors who normally got stuck with roles as maids and comic relief the chance to shine.   It's also a musical and as such a showcase for Mr. Jordan and his Tympani Five band.  As such, there are multiple swing numbers, three of them before the plotline even starts!
Ms. Griffith was apparently not a particularly good singer, so the film avoids her breaking into song as much as possible.  Instead, we're treated to a couple of fine numbers by June Richmond.  (She'd actually have made a better female lead, I think, but was too heavy-set for Hollywood to give her that role.)
The fan service is heavy in this film–the showgirl costumes and bathing suits are at least plot-relevant, but there's a scene of Ms. Griffith in her underwear when she didn't need to be.  (Really obvious when Ms. Richmond is in the same scene, fully clothed.)  Mr. Jordan's taste for fine-looking ladies is treated as being a lovable scamp.  But the next to last song in the movie is a misogynist screed "Ain't That Just Like a Woman?", that really jarred when the finale is "If It's Love You Want, Baby, That;s Me."
As such, if you are watching this with younger viewers, you might want to discuss the harmful effects of casual misogyny
The Mill Creek edition of this movie cuts off just before the resolution of the plot; the Internet Archive print is complete, but has much worse picture quality.