Book Review: Mort by Terry Pratchett
Mort is a farm boy who is completely unsuited to farming.  Or, it seems, to any other occupation.  He's all elbows and knees and random thoughts.  In desperation, Mort's father takes him to a village festival where boys are apprenticed.  Mort is the last boy left after being rejected even for beggary, when Death happens by, and takes him on for an apprentice.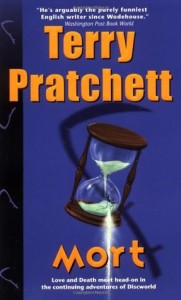 As an anthropomorphic representation, Death probably doesn't need an apprentice.  Or a manservant, or indeed an adopted daughter.  But he seems to want these things, and there you are.  As with any new job, Mort struggles with even the basics at first, but soon becomes reasonably good at filling in for Death.
So Death decides to take some time off, to investigate various things that humans do.  And it's at this point that Mort lets his feelings get the better of him, and he breaks the Rules.  Once couldn't hurt, right?  Yes.  Yes, it could, and reality doesn't like it when a dead person is still alive.  Can an increasingly desperate Mort convince a wizard to lend a hand to save a princess before it's too late?
This was the fourth Terry Pratchett Discworld book, and the first to have Death as a central character, instead of an extended cameo.  To a large extent, it feels like Mr. Pratchett was still piecing together the larger picture of Discworld after having decided to make it a series.  There are definite signs of what will become beloved characters and institutions, but vague at best.   Perhaps the most important part of the book is establishing Death's interest in humanity, something of a soft spot for him that flowers in better books down the line.
Mort is much in the line of comedic fantasy's unlikely protagonists, the sort of good-natured but clumsy fellow who dies quickly in more gritty works.  If you've read a few of the other Discworld books, you'll quickly figure out where the intended twist of the normal fantasy romance storyline will come in.  Even if Mr. Pratchett is engaged in tweaking serious fantasy's nose, he's a big softy at heart and all ends well…mostly.
There is a bit of talk about suicide, but it isn't a plot point.
If you're new to Discworld, you might want to start with one of the later books in the series, when Mr. Pratchett really hit his stride, then come back to this.  It's decent, but not his best.