Book Review: Republic of Thieves by Scott Lynch
Note:  This is the third book in the Locke Lamora series, and this review will contain spoilers for the first two.  If you haven't already read them, you may want to check out my review of the first volume, The Lies of Locke Lamora.
We return again to the adventures of conman and thief Locke Lamora, and his best friend and hatchetman Jean Tannen in a fantasy world reminiscent of Renaissance Italy.  Following the events of the second volume, Red Seas Under Red Skies, the pair have been lucky to escape with their lives.  And even that is increasingly dubious as Locke suffers a seemingly incurable poisoning.  When even the last frail hope is shattered, he's at an even lower point than ever before.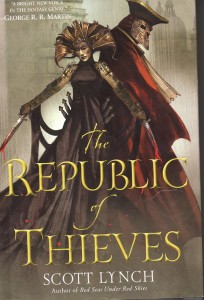 It's at this point that the bondsmage Archedama Patience arrives with an offer that is difficult to refuse.  She will remove the poison in exchange for Locke helping her to fix an election in the city-state of Karthain.   While her connections to the Falconer, the bondsmage who Locke crippled in the first book, ensure that he cannot truly trust her, it's that or a horrible death within days at best.  Better to take that six-week extension and hope to outwit her in the meantime!
Karthain is ruled, in its way, by the bondsmagi, but their rules prevent them from using magic to control the election directly–and its outcome will send one faction of the magi ascendant over the other.  So a clever fellow like Locke is needed to pull all the tricks necessary to win.  However, there's another problem.  The opposition learned that Patience was hiring Locke, so they've acquired the services of the only other person as devious as he–the love of his life, the beautiful and treacherous Sabetha.
There are actually two plotlines, the current-day one and the story of Locke and Sabetha's young relationship, which culminates in a performance of a play entitled The Republic of Thieves.
We learn considerably more about the bondsmagi this go-round, and see that while they are not at all pleasant people, they do have reasons for their actions, and the Falconer was going well out of his way to twist his remit to greater evil for his own pleasure.  The cycle of vengeance might be less vicious if he hadn't given it a firm push.
Locke is a bit more likable in this volume, perhaps because his primary opponent is one of the few people he actually feels some loyalty to, and their battle is primarily one of wits rather than violence, though some of that comes in too.
People who have triggers should be aware that there's some fairly graphic talk of rape, and an attempted rape.
Some minor characters turn out to be the sort of people I actually care about, but they are unlikely to appear as more than a cameo in any other volumes–Locke doesn't have many living friends.
The back and forth between current and past plotlines can get annoying–I actually skipped ahead when a particularly juicy twist came at a cliffhanger moment, which may or may not explain a lot about Locke's abilities.
The final chapter is a long set-up for a sequel hook, which will presumably figure in later in the series.
Overall, I liked the cleverness of the election hijinks, and the sparks between Locke and Sabetha, but the next book is likely to go to more gloomy territory, and I do not think I want to follow it there unless Locke develops higher motives.