Book Review: Barry Blake of the Flying Fortress by Gaylord Du Bois
World War Two is raging, and the Army needs pilots desperately.   Enter Barry Blake and his buddy Chick Enders, straight out of high school and patriotic volunteers.   They're to receive their preliminary flight training at Randolph Field in San Antonio.   They are almost immediately make friends with good-natured fellow cadet Hap Newton, but are at odds with the vain and ill-natured Glenn Cardiff Crayle.  Crayle's sabotage causes Chick to wash out of pilot training, but bombardier school is an acceptable fallback.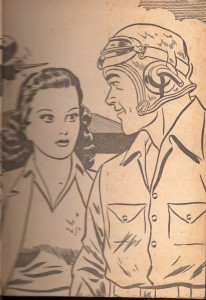 Barry is soon taught to fly the B-17 Flying Fortress, and assigned to the Sweet Rosie O'Grady, under Captain O'Grady, who named it after his wife.  Originally bound for India, the crew is diverted to the South Pacific, where they participate in a raid on the Japanese base at Rabaul.  After Captain O'Grady is severely injured, Barry takes over as pilot, being reunited with Hap as his co-pilot and Chick as bombardier.
The friends and their flight crew participate in many exciting adventures, repeatedly showing their bravery and combat prowess, until tapped for a special secret mission.  The mission goes off okay, but on the way back Crayle can't stop himself from taunting our heroes one last time.  His vanity and cowardice get him and the crew stuck in a raft behind enemy lines–it's up to Barry to shepherd them and a few civilians to safety in Australia!
This book was part of the Whitman Publishing Company's "Fighters for Freedom" series of novels for young readers about wartime careers.  (Other books covered the WAAFs, WAVEs and Ferry Command.)   As you might expect, it's pretty exciting stuff, depicting war as an adventure.  While the unit takes casualties, the blood and guts are downplayed, and our heroes get away with some very irregular activities.  I will mention that at one point when their slaughter of the enemy gets too easy, our heroes lose their stomach for further attacks that day.
Barry's a fairly typical hero for this sort of book; ruggedly handsome, athletic, and valedictorian of his class.   Chick is the not quite as handsome, slightly shorter and hotter-tempered best buddy type.  The rest of the crew are fairly bland, the "white guys with different regional accents" that was considered a diverse cast back in the 1940s.  The Italian-American guy is treated by the story as the token minority.  Crayle, of course, is coded as small-town rich, the sort of fellow who's used to being a big shot at home and not happy about being just another pilot here.
Barry meets a couple of attractive young women in the story, a nurse and a missionary's daughter; both are treated as impressive in their own ways, and there's a bit of romance that is cut short by the flow of the war.
The sticking point for many of today's young readers will probably be the period racism.  It's mostly directed against the Japanese, and mild by the standards of the time, but there are a couple of odd moments elsewhere.
The author wrote quite a bit of kids' adventure books, but I remember him best for his work on Turok, a comic book about a Native American stranded in a valley of dinosaurs.
This book is a product of its time; parents may want to talk to younger readers about wartime racism and how it affects people's attitudes.