Comic Strip Review: The Complete Little Orphan Annie Volume Ten: The Junior Commandos by Harold Gray
Little Orphan Annie was one of the all-time great comic strips, debuting in 1924.  The story centered on a plucky orphan girl with curly red hair (which was considered unattractive at the time) and her attempts to get by in a cruel world with the aid of her dog Sandy.  Early on, she was taken "on trial" by the unpleasant Mrs. Warbucks, whose husband Oliver "Daddy" Warbucks took an immediate shine to Annie.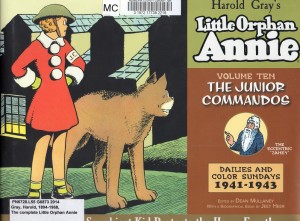 The strip's formula depended heavily on finding ways to separate Annie from "Daddy" for long periods, or giving him financial troubles so they could go on the road together.  The device of having one of them believe the other was dead was used repeatedly for melodrama.  Mrs. Warbucks eventually relented and made friends with Annie, only to permanently die shortly thereafter.  (There was a second Mrs. Warbucks who was also hostile to Annie, and who Daddy may have murdered offscreen.)
Eventually, the strips added Daddy Warbucks' exotic servants Punjab (a giant of a fellow with mystic abilities) and the Asp (a East Asian with a mysterious past and no given name.)  Harold Gray had strong conservative views, which often featured in the strips, both as story themes and character dialogue.  He was a big believer in hard work and honesty as ways to get ahead, and sometimes showed huge blind spots about the flaws of capitalism.
This volume covers stories from 1941-1943, and is strongly influenced by the events of World War Two.  While Daddy is testing a new bomber plane (he is after all a munitions manufacturer), he and the group are forced to land somewhere in the midwest.  Annie is injured in an automobile accident, and narrowly escapes the ministrations of quack Dr. Eldeen.  Instead, she is placed under the care of Doctor Zee, a friend of Daddy's he met in Spain (presumably during the Spanish Civil War), who has become a recluse.
Daddy Warbucks and his associates are reported missing, presumed dead, shortly thereafter, stranding Annie in the large town.  Dr. Zee, one of the few sympathetic characters in the history of the strip with progressive views, is brought out of his shell by Annie, and by reconnecting with a childhood friend who has become known as "Crazy Kate."  Zee starts a low-cost medical practice that clashes with both Dr. Eldeen (who runs a private clinic for not particularly sick wealthy people and uses heavy drugs to keep them under control) and Dr. Dubb, a mediocre physician who owns the town hospital.
Eventually, it is learned that one of Dr. Eldeen's patients is a scientist called "Zaney" who has developed an explosive formula vital to national security, which Eldeen wants to sell to the Nazis.  This plot fails, and Eldeen has to go on the run.  Daddy Warbucks and crew reappear alive, but now enlisted in the military of "an allied country" so they can fight the Axis menace.  (Gray didn't have them enlist in the U.S. Army as then they'd have to obey regulations instead of getting straight down to killing the enemy.)
Determined to do her bit to help win the war, Annie organizes the town kids into "Junior Commandos" who sell War Bonds and collect recyclables for the war effort, performing many helpful functions for soldiers and war workers.  Rather suddenly, the town is near the seacoast so that Annie and a new friend can sink a Nazi submarine.  Shortly thereafter, the town takes in a war refugee nicknamed "Driftwood" who has lost his family to "the invaders."
Doctor Zee enlists in the military, so Annie and the supporting cast move in with a Mrs. Sleet, a seemingly chilly wealthy woman who Annie helps deal with the loss of her husband and son, and who becomes a sponsor for the Junior Commandos.    Daddy Warbucks and his men are reported killed in the fighting, and Dr. Zee returns minus an arm.  But Annie and a female surgeon, Dr. Clover, help Dr. Zee recover his will to be a healer, and after some mild love triangle shenanigans, Zee marries Katie, his childhood friend.  (There's also a lot of other action going on in the meantime.)
The Nazis become convinced that Daddy Warbucks (now revealed as surviving) left a copy of Zaney's formula with Annie, and come up with an elaborate plot to get it from her.  This involves impersonating a reclusive writer, Malcolm Mitt, another of Daddy's old friends, and inviting Annie to a castle built by an eccentric Spanish immigrant to await her guardian's return.  The castle is full of secret passageways and tricks, as well as Nazi spies and a submarine harbor.  Annie's able to recruit the local Junior Commandos and Serbian immigrant "Big George" (formerly a spy on the Germans for twenty years) to help her clean out this nest of rats.
But it's not until Daddy Warbucks finally shows up for real and Punjab uses his disappearing trick that the situation is fully resolved.  The war's still on, though, and Annie ends the volume being shipped off to live with another of Daddy's old friends…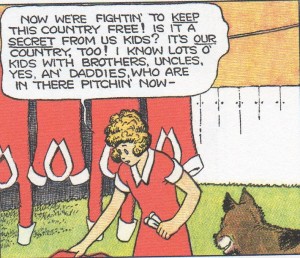 Annie's tough and wise beyond her years, and a natural leader, but we do see moments of her still being a child, as when she exclaims in glee over a new doll.   The strip openly mocks the idea of protecting children from the knowledge of war; Driftwood is all too aware that the war does not spare anyone because of age or innocence.  That said, this is not a children's story as such, but a family one–parents should read these strips along with their kids to aid in understanding the context.
Violence is rife in this story, and Annie, while not directly killing anyone, has to dodge a question on the subject of whether she hasn't disposed of some enemies permanently.  (It's also noted that in his backstory, Daddy Warbucks once snapped a man's neck like a toothpick.)  Don't let anyone kid you that violence in the media is a modern decline!
One interesting tidbit is the appearance of George, an African-American child, who is afraid he won't be allowed into the Junior Commandos.  Annie assures him he is welcome, and George swiftly proves his worth, getting a promotion.  He only appears in one Sunday strip (and is mentioned on Monday) but black readers strongly appreciated the interlude.  A Southern newspaper publisher wrote to warn Mr. Gray that he might lose readers in the South for showing "race-mixing."  Mr. Gray's response was to the effect that while he fully supported the South working out its own issues, a lot of "colored" people bought newspapers too, especially in the large Northern cities.
The "Nazis in a castle" story isn't as good; the introduction notes that the artist had recently lost his father, and may have been distracted from his work; also, he was becoming disenchanted with the U.S. government's handling of the homefront of the war, which would really show up in the next story.
Still, this volume is a good introduction for kids to what life was like on the homefront in World War Two, with proper parental guidance.  Highly recommended to fans of older comic strips.