Comic Book Review: Batman: Earth One Volume Two story by Geoff Johns, pencils by Gary Frank and inks by Jon Sibal
Disclaimer:  I received this book as a Goodreads giveaway on the premise that I would review it.  No other compensation was involved.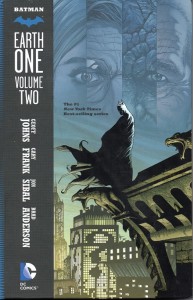 The corrupt Mayor Cobblepot may be dead, but that doesn't mean that Gotham City is free of the machine he helped set up.  New Mayor Jennifer Dent and her district attorney brother Harvey are attempting to discover the identities of the new cabal that's  running the rackets now.  There's a bomber who asks riddles and kills you if you're wrong, and…something…is attacking people in the sewers.
While all this is going on, Bruce Wayne is coming to grapple with who he really wants Batman to be, and working out just how far he and police officer James Gordon can trust each other.    Is he just a vigilante out for vengeance on criminals, or a symbol of hope for the city?
DC Comics' "Earth One" line of graphic novels is an interesting experiment.  Much like  Marvel's "Ultimate Universe", it's a way of writing more modernized stories about familiar characters without the confines of previous continuity.  (This is in contrast to the line-wide reboots like "The New 52" where some of the previous stuff is  assumed to be in continuity, but the readers can never rely on which bits are still valid.)
This allows the creators to pull in bits from various previous versions of the characters that are helpful to the new story, while discarding the parts that haven't aged as well.   For example, the Earth One Alfred is more combat trainer and accomplice to Batman than family servant.   Batman is still new at this, and isn't the world's greatest detective, master of all combat arts and escape artist all in one.  Yet.   He's not realistically fallible, but fallible enough for verisimilitude. Detective Gordon and his partner Harvey Bullock work at cross-purposes with the other good guys because they're not let in on the plan until almost too late.
Similarly, the villains are given new treatments that work for this story.  This Riddler is a much more cynical take, while Waylon "Killer Croc" Jones is the most sympathetic he's been in years.  The art team teases us with multiple glimpses of Harvey Dent's face half in darkness or otherwise hidden, as though foreshadowing  his usual role,  but his actual fate is a bit surprising.
Some of Gary Frank's disturbing face work is still there, but it seems to be mitigated by the inker DC assigned to him.   The writing is decent, but I think Geoff Johns is overextended and some bits seem threadbare.  Since the colorist is on the cover, I should mention that the coloring job is good; not too muddy, not calling too much attention to itself.
If you're a Batman fan, or liked the movies but are not ready for the mainstream Batman titles with their years of continuity, this is worth looking at.  You may also want  to look at the previous volume, but it's not necessary to follow this one.