Anime Review: Jojo's Bizarre Adventure: Stardust Crusaders
Jotaro Kujo is a bit of a juvenile delinquent, sassing his mother, wearing his school uniform out of regulation style, and getting into fights.  But when he notices that there's now a strange being that only he can see and does things for him, like bring comics he wants but can't afford, that's a bit too much for our young hero.  He decides that he's become demonically possessed and insists on being locked in jail.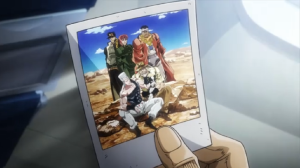 He's surprised when his grandfather Joseph Joestar shows up to bail him out, with a mysterious Middle Eastern man in tow.  It turns out that what Jotaro has is not a demon, but a psychic projection known as a Stand.  Some people, like the Egyptian fortuneteller Avdol and his fiery Stand Magician's Red, are born with these powers.  The Joestar family, however, only recently gained these Stands, including Joseph's clairvoyant Hermit Purple and Jotaro's martial arts-oriented Star Platinum –and the reason is unsettling.
The vampire Dio, who had been decapitated and trapped in a chest at the bottom of the sea, was released a few months ago, and attached his head to the body of Joseph's grandfather Jonathan Joestar.   Somehow.  This also for reasons not fully explained in this plotline caused Stands to awaken in everyone blood-related to Jonathan.   This includes Joseph's daughter and Jotaro's mother Holly.  Unfortunately, she is for insufficiently explained reasons unable to fully manifest her Stand, which instead is slowly killing her.   DIO (as he is now called) needs killing anyway, but this puts a time limit on it, and our small band must make their way from Japan to Egypt and destroy the overpowered vampire before Holly dies.
This is the third storyline of the Jojo's Bizarre Adventure series based on the manga by Hirohiko Araki.  I reviewed the adaptation of parts one and two, Phantom Blood and Battle Tendency, earlier.  This part takes place in the 1980s (when it was written)  and replaces the martial arts vs. vampires and super-vampires battles with bizarre psychic abilities that take a physical form.  This provides many chances for tactical innovation as the characters must try to use their specialized powers to overcome the strange abilities of their opponents.
DIO has gathered a motley crew of mostly evil Stand users, though the handsome Kakyoin (wielder of the liquid Hierophant Green) and the comical Polnareff (master of the fencing Stand Silver Chariot) were mind-controlled and join the heroes once freed.  One of the running gags of the series is that the main characters cannot keep a vehicle for more than a day or two before it gets destroyed or made inoperable.  This slows their journey across Asia considerably.
In addition to everyone being named after musicians or music, the Stands are patterned after the Major Arcana of the Tarot  until the arrival in Egypt, at which point most of the enemies have Stands patterned after Egyptian gods.  This is probably because Araki was told to stretch out the manga while its ratings were high.   Also in Egypt, the team picks up a sixth member, Iggy the Fool, a very unpleasant dog.
Jotaro is on the surface a very different protagonist from Joseph, a stoic, quiet young man who prefers to let his fists do the talking.  As the series progresses, however, we learn that he shares some of his grandfather's goofball sense of humor.   Joseph himself remains the trickster hero, his new powers requiring subtlety and clever tactics to defeat enemies.  Avdol is the dignified one, though quick to anger, and Kakyoin is a bit more intellectual than the others.  Polnareff is, while competent, very much the comic relief, and gets stuck with repeated potty humor gags.
DIO spends most of the series in shadows, barely interacting with his minions, but once he becomes active, takes center stage.  He's learned not to underestimate the Joestar clan, and his new power The World is seemingly unbeatable.  He's considered one of manga's most iconic villains for a reason.
In addition to the violence you'd expect from a shounen fighter series, there's a fair bit of nudity, some of it very creepy.
This part of the series has been animated before, but the new adaptation is much more faithful and as of this writing is available on Crunchyroll.  (Note: due to trademark issues, some of the names are changed in the subtitles.  So you will hear the characters saying "Vanilla Ice", the  name of a villain, but the subtitles will read "Cool Ice.")
This series inspired a lot of later shounen battle series, but the clever fights, roadtrip plotline and fun characters are still some of the best in the business.