Manga Review: UQ Holder! Vol. 1 by Ken Akamatsu
It is a couple of generations into the future, and both reasonably-priced space travel and  techno-magic have come into existence.   Large swaths of Earth's population has gone to space, with the remaining people either enjoying life in small country villages or struggling in the remaining big cities.   Of course, just because your parents like living in a small town doesn't mean you do, and five boys have made a compact to escape their podunk village and go to the top of the space elevator they can see in the distance.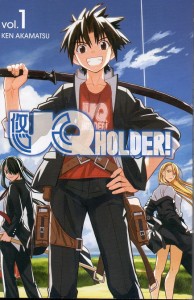 Their more or less leader is Touta Konoe, a physically adept fourteen-year-old who's good with a sword.   The mayor has set a condition that in order to leave, the five boys must defeat Touta's guardian and their homeroom teacher, Yukihime, in battle.  Since she's an excellent combatant with years of experience and possibly knows how to use magic, that isn't happening any time soon.
Until one day another of the schoolteachers offers the boys an equalizer.  Naturally, he isn't being entirely honest about his motives.  In the ensuing crisis, we learn that Yukihime is actually an immortal vampire, and to save Touta's life, she must make him one as well.  With her identity exposed, Yukihime and  Touta must leave the village so that it is not attacked by vampire hunters.    And so they set out on the adventure of a long, long lifetime!
This manga turns out to be a distant sequel to Mr. Akamatsu's previous series, Negima!  Yukihime is one of the supporting characters from that story under a different name.   One of the panels seems to indicate that Touta is the descendant of another character from that series, who is now dead.   However, flashback panels indicate that Yukihime has been lying to everyone about just how Touta's parents died, so that character may show up later.
Touta's a fairly standard shounen protagonist, a loud-mouthed, overenthusiastic messy-haired boy who is shockingly unaware of basic facts about the world.  Yukihime plays the cynical, jaded mentor, and provides most of the fanservice in the first volume.  (She may care less about this because her body is largely an illusion.)   More atypical is the new friend they make along the way, Kuroumaru Tokisaka, an extremely pretty boy (Touta keeps thinking he might actually be a girl) who also happens to be a vampire hunter.  As he can't return home until he kills Yukihime, and she's too many tiers above him for that to happen, he's hanging around for the foreseeable future.
The apparent theme of the story is immortality, and how the various kinds of immortals cope with their long lives for better or worse.   Towards the end of the first volume, we learn that the series is titled after an organization of  immortals.  ("UQ" sounds like the Japanese word for "eternity">)
Mr. Akamatsu is an experienced manga creator, and it shows in the well-constructed fight scenes (warning:  there's some gory mangling!) and plot pacing.   This does, however, point up how pandering much of the fanservice is, clearly aimed at immature teenage boys.
If you liked Negima! or Love Hina you are likely to enjoy this series as well.  But be prepared to be infuriated if the backstory kills off or "ruins" your favorite character from those precursors.