Book Review: Peril by Ponytail by Nancy J Cohen
Disclaimer:  I received this book as a Goodreads giveaway on the premise that I would review it.  No other compensation was involved.  Also, this is an advance uncorrected proof, and there will be some changes in the final product.  (Such as fixing the typo on the very first page of the story.)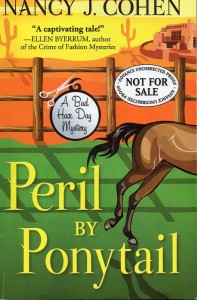 Marla Vail, hair salon proprietor, and her new husband Dalton Vail, a homicide detective, are on a belated honeymoon.   Dalton's Uncle Raymond owns a dude ranch in Arizona, and is developing a ghost town as a tourist attraction, so they're going to spend their vacation there.  But this is a mystery novel, so there's no rest in store.  A forest ranger has died under suspicious circumstances, and there's been a spate of supposed accidents at both the ranch and ghost town.
Raymond is pretty sure that another rancher he's long feuded with is responsible, but Marla's not so convinced.  Could it be the rebellious daughter; the wranglers with shady pasts–perhaps the ecoterrorists?   The "accidents" become more deadly as the puzzle pieces pile up.
This is the twelfth book in the "Bad Hair Day" cozy mystery series.  Marla normally works out of her hair salon in Southern Florida and uses her knowledge of hair care to help solve crimes.   She's a bit out of her element here; the flat landscape of her home has not prepared Marla for a case that involves lots of hill and rock climbing, and she's not a young woman.   She does spot a hair-related clue early on, but doesn't really follow up on it, and the savvy reader will solve that part of the mystery many chapters ahead of the reveal.
One thing that irritated me as a fan of "fair play" mysteries is that ghosts and psychics are treated as valid (if frustratingly vague) sources of information; unless it's a "one weird thing" story, the supernatural has no place in cozies.   I was also baffled by the absence of right wing/libertarian loonies from the list of possible threats given by the local sheriff.  The ecoterrorists are more germane to the plot, true, but the former have been in the news more recently in the Southwest.
The character byplay is pretty good, with Marla and Dalton having an active sex life just off camera.   There is quite a bit of family drama that screens the actual solution to the mystery as various members conceal useful information.
Perhaps in deference to the Western setting, the ending involves rather more gun play than one would expect from a cozy, nearly up to hard-boiled levels.
This is a light mystery suitable for vacation reading that's not too challenging.