Magazine Review: Lapham's Quarterly: Spring 2015 Swindle & Fraud Edited by Lewis H. Lapham
Mr. Lapham's literary magazine is based on the principle that history has much to teach the present on many subjects, so presents excerpts from many famous (and not so famous) authors on a loose topic for the education and entertainment of its readers.  This issue covers swindle & fraud, and the topic of lying and stealing more generally.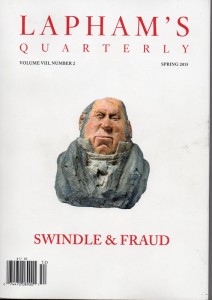 The pieces are all short, none more than six pages, and most hanging around the two-three page mark.  A long time spectrum is covered, from the classic Trojan Horse gag to the sub-prime mortgage bubble of the 2000s.   After a lengthy editor's introduction, we start with Lawrence Osborne buying his own death certificate.  Through many authors we proceed to Oscar Wilde's short play "The Decay of Lying."Along the way we hear from Charles Ponzi (his original scheme was legal, but he couldn't raise money for it without resorting to fraud) and Malcolm X's thoughts on how white politicians lie to black people to get their votes.
There are a few original essays to round out the issue, "Rogue Wounds" by Daniel Mason, on faking illness; "We Buy Broken Gold" by Clancy Martin , on the retail buying of precious metals and gems; and "A Fish Tale" by David Samuels, about Herman Melville and the nature of fiction in Moby Dick.
The issue is profusely illustrated with classic artworks and other depictions of the theme, infographics and short quotes.   Everything is properly attributed, or at least it appears to be.
The general selection of items is high quality, and since they're short, if a particular piece doesn't interest you, another one will be along quickly.  It helps that crime and corruption are such interesting topics.  The shortness does however mean that most of the topics are only touched upon in the briefest of terms and you will want to investigate further if a given one interests you.
Highly recommended for strong readers who have limited time at any sitting.