Manga Review: Chaika: the Coffin Princess #1 Original Story by Ichirou Sakaki, art by Shinta Sakayama
It has been five years since the end of the war with the Gaz Empire, and up until now, there has been peace.  Not everyone has adjusted well to the post-war era.  In particular, Toru Acura based his entire identity around being a "saboteur", a kind of super-warrior with the Iron-Blood ability to make himself stronger and faster.  He refuses to take any other kind of work, and has spent most of the last five years sulking in his bedroom.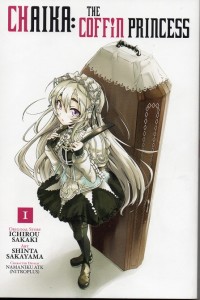 Toru's sister Akari, tired of being their sole support, informs him that he won't get breakfast unless he earns it himself, and he leaves the house for the first time in weeks, possibly months.  No one needs a saboteur, and he isn't willing to lower himself to anything else, so he winds up in the woods looking for edible berries and roots.
This not being a story about wilderness survival techniques, Toru runs across a young woman who does not speak the local language well and is carrying a coffin on her back.  As it happens, she is Chaika, who is being pursued by a bloodthirsty unicorn creature.  Chaika makes a bargain to feed Toru in exchange for him helping her with this problem.  Turns out she's a powerful wizard, but her spells require a lengthy start-up time, and Toru must engage the unicorn in battle until she can unleash destruction.
Thankful, Chaika buys Toru breakfast, and departs.  But soon she's back.  It seems she needs the services of a couple of saboteurs, and she noticed Toru and Akari were out of work.  Because of Chaika's communication difficulties, she isn't able to convey the full meaning of this mission, which is unfortunate, because it turns out there are other people interested in the same target she is.
This fantasy manga is based on a light novel, which was also recently turned into an anime series.  There's some interesting world-building going on here, and hints at a complex political situation.  I also like Chaika's personality and those eyebrows.  The clothing choices are kind of dubious–Chaika's outfit is in no way suitable for long wilderness hikes. and Akari's has some obvious vulnerable spots not wise to have for a warrior.
Also, I like the language difficulties, not often realistically done in fantasy works.
However, I cannot recommend this manga to most readers due to something it shares with too many recent light novel adaptations.  Akari is constantly making incestuous remarks towards or about Toru.  Now I'm sure that it will turn out they're not blood-related, or it's her idea of a hilarious running joke, but I just don't find incest funny, and that tainted the entire story for me.  If you are okay with this sort of humor, you will probably enjoy it more than I did.
Still, good art, some interesting story potential.