Book Review: Cowman's Jack-Pot by Frank C. Robertson (Also published as Greener Grows the Grass)
Chet Calder has spent eight years in the East.  Now the death of his father Dave Calder, and the crash of the stock market mean that there's nothing left but the DC ranch.   On the stage into Calder City, Chet is seated by Mr. Doljack, the local banker.  Mr. Doljack reports that even the ranch itself is in dire financial straits, but it can be saved by ending the feud with the Murtaugh family and their Block M ranch by leasing some prime grazing land to them.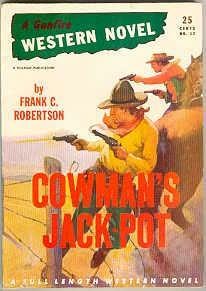 Chet distrusts Mr. Doljack, who only owns the bank by virtue of having married the previous owner's daughter.   But then who should just happen to be taking the Calder City stagecoach but Sylvia and Esta, the Murtaugh twins, who have filled out very nicely since Chet's been away.  They are quite charming, and Chet begins to think it might not be so bad to end the feud after all.
Frank Chester Robertson (1890-1969) was a noted writer of Western novels (150 novels! plus many short stories and articles.)  This 1942 book is a good example of his craft.
Unlike many Westerns in which the protagonist is an upstanding fellow from the beginning, Chet Calder is initially a heel.  He has been away so long because he quarreled with his father over a gold-digging woman, only to have her throw him over when Dave wrote her a check.   Since then he's been a "sportsman", living off his father's money while doing nothing to earn his own way or improve himself.  The Nineteenth Century equivalent of sitting around in your underwear all day playing video games, but with better chances of scoring women.
His financial circumstances having forced him to come back to the Idaho Territory irks Chet, and he treats his father's old hands like servants, and his pride makes him snide to girl next door Marcia Whitman, who Mr. Doljack has informed him has become greedy.  None of the DC Ranch people are happy that Chet plans to make nice with the Murtaugh clan and hold a lavish party for the enemy ranchers.
Only after Chet has managed to alienate most of the people who should be his allies, while winning over none of his enemies, does he realize that he was set up from the start.  Now he has to start digging himself out of the hole he made.
Other than Chet, the lines of good and evil are pretty clearly drawn.  The Murtaughs have been poisoned by their upbringing and the long feud.  (And in an unpleasantly racist moment, the narration blames some of their evil on being of part-Cree heritage.)  One of them kills a cat just to drive home that he's a bad'un.  Mr. Doljack is greedy and amoral (and lives in fear of his supposedly grotesquely ugly wife, who we never meet), and the other co-conspirators aren't much better.
While the Murtaughs just want to make their Block M ranch prosperous and stick it to Chet, the other baddies are more interested in huge phosphate deposits Marcia's father found on the DC land.  A decade before, those deposits had been unimportant, but with technological and infrastructure advancements, they're worth millions.  Mr. Doljack is determined to get control of the mineral rights before Chet can find out their true value.
The primary weakness of the forces arrayed against Chet Calder is that their differing motivations and willingness to maneuver against each other to gain advantage or advance their own endgame results in some backstabbing that Chet can take advantage of.
Mr. Robertson has a tendency to repeat information he's already established, and cheats a bit at the end to make sure that our heroes triumph without actually having to kill anyone.   But still, this is a nice old-fashioned Western tale for those who prefer their stories in black and white.  The last reprint appears to have been in the 1970s so good luck finding a copy.