Manga Review: Gimmick! Story by Youzaburou  Kanari, Art by Kuroko Yabuguchi
Studio Gimmick doesn't look like much from the outside–it's a two-man operation by Kohei Nagase, special effects makeup expert, and his stuntman friend Kannazuki.  But if you need their skills, and have nowhere else to turn, you may be able to hire them to help you.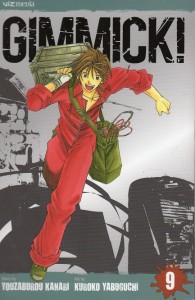 Gimmick! is a shounen (boys') manga with a focus on "practical" (as opposed to computer-generated) special effects and makeup.  Kohei and the friends he gathers over the course of the series use their tricks and cunning to help people in trouble.  We eventually learn  that Kohei learned his craft in the Hollywood studio of the legendary J.T., but returned to Japan after he was tricked into helping the U.S. government get America into the Iraq War (which led to the death of his best friend) and J.T. disappeared.  He still cherishes the special silver makeup spatula J.T. gave him.
In the volume at hand, #9, the finale, the true identity of Kohei's nemesis, the man with the black spatula, is revealed.  We learn the enemy's motivations and why he uses special effects for evil, and Kohei must overcome his guilt to face the Black Spatula in a final battle.  After that, there's a coda chapter which I found overly sentimental, and a flashback to the first time Kohei was put in charge of special effects makeup for a movie.
To be honest, I liked the earlier volumes better, with their caper plotlines and twists.  As the series wore on, it became more contest-oriented, and the final makeup tournament lasts most of three volumes.
The art is at its best when depicting the makeup, and can be a bit sketchy otherwise.
Overall, it's an okay series, but I can see why it only lasted nine volumes.  Check your library.