Manga Review: Captain Ken 1 & 2 by Osamu Tezuka
Mamoru Hoshino lives on his family ranch on Mars near the town of Hedes.  Life in a backwater frontier town can get a bit stale, so he's excited when he learns a distant relative, Kenn Minakami, is coming from Earth to live with them.   On the way to the spaceport, Mamoru runs into a gunslinger calling himself "Captain Ken."  Although a boy no older than Mamoru himself, Ken is a skilled combatant and saves Mamoru's life from an ambush.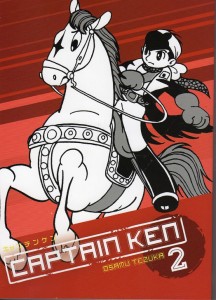 Realizing that he's too late to get to the spaceport, Mamoru returns home to find that Kenn Minakami, a lovely girl, has just arrived.  Mamoru is shocked to discover that aside from the obvious, Ken and Kenn look exactly alike.  He begins to suspect that they're the same person, but other problems become more pressing.
This 1960 manga series by Osamu Tezuka took the concept of a "space western" and ran with it.  In the backstory, the first human settlers on Mars were Americans, who noted the terrain's resemblance to the legendary Wild West.  They promptly adopted Western garb and customs, as well as building robot horses to ride as wheeled vehicles were not suitable except in built-up areas.  Other countries' immigrants more or less assimilated into that culture, except the Russians.
Unfortunately, another part of American history repeated itself as the Earthlings stole land from the native Martians and broke treaties with them, pushing them into the worst land, ever shrinking as the humans multiplied.
Captain Ken's mission is a bit nebulous at first, although he does try to protect the natives from oppression by evil Earthlings.  Tezuka was well aware that most of the readers would have read Princess Knight (originally Ribon no Kishi) and would think he was repeating the trick of having a girl impersonate a boy or vice versa.  For most of the first volume, he makes sure no one ever sees Ken and Kenn together, and has them both engage in odd behavior that would make sense if they were the same person.   The real explanation turns out to be way weirder.
Captain Ken eventually decides to learn "Martian Shooting Style" which is actually only usable by people born under the heavier gravity of Earth.  This is important, as the deadly gunfighter Lamp knows the style and is loyal to the villains.  Everything climaxes as the Martians reveal they've been stockpiling weapons for years, and are now ready to kick all the aliens off Mars.  The ending is bittersweet.
This is very much a boys' adventure series, with women relegated to minor roles (Kenn is more important as a motivation than as someone with agency.)  While this is a children's story, Mr. Tezuka does not hold back on the violent action, and several people die.  (The story wobbles on whether Ken's gun shoots lethal bullets.)  Sensitive readers may find it too intense.  There's also a person who is dying of radiation poisoning, clearly inspired by Hiroshima survivors.
Parents of young readers may want to discuss the treatment of Native Americans, whether using guns is the best way to resolve problems, and perhaps the atomic bomb with their children.
This isn't Tezuka's best work, but it's still well-written fun with his cartoony art.  Recommended to Tezuka fans, space western fans, and boys at heart.