Book Review: Women of the Night edited by Martin H. Greenberg
With all the anthologies I've been reviewing, I'm surprised it took me this long to cover one edited by Martin H. Greenberg (1941-2011), who curated more than a thousand SF/F/Horror anthologies during his career.  He was an excellent packager:  If you wanted a book about alternate universe Elvises, he could find you a dozen decent to outstanding stories, even if he had to call a few authors to write them to order.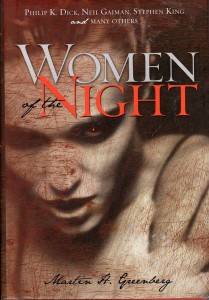 In this particular case, the theme is "female vampires" of various sorts.  The introduction by John Helfers talks about how they have been relatively underrepresented as opposed to male vampires, but their literary pedigree is nearly as long.
The sixteen tales open with "One for the Road" by Stephen King, a sequel to Salem's Lot.  A tourist managed to strand his family in what used to be Jerusalem's Lot during the middle of a Maine blizzard.   He's finally managed to find help, but it may be too late for his wife and child.  Spooky, but really requires you to have read the previous book for full effect.
The oldest story is from 1953, Philip K. Dick's "The Cookie Lady."  A young boy visits a nice old lady who offers him cookies and likes to listen to him read.  She's a different kind of vampire.  Notably, the boy's parents are right to be concerned, but for the wrong reasons–in a non-horror story, they'd be the bad guys.
As one might expect from the usual treatment of female vampires in fiction, there's quite a bit of sexual references in the anthology, unfortunately including rape and pedophilia.  There's also a fair amount of violence (what, you thought all blood donors were voluntary?)
Neil Gaiman's "Snow, Glass, Apples" is an interesting twist on the Snow White tale, but I found it less transgressive than just kind of icky.  Still very well written.
"Sister Death" by Jane Yolen is better, I think, twisting together the myth of Lilith and the Holocaust.  Some very evocative imagery.
There's a wide assortment of female vampires; sometimes villains, sometimes victims, and one or two are the heroes of their stories.  I think a couple of these have their endings muted because we know that there is a female vampire to begin with, even if within the story it's a surprise.
The final story is "Do Not Hasten to Bid Me Adieu" bu Norman Partridge.  It's a take on the Dracula novel, some parts of which are true in the story, and others made up by Bram Stoker.  Quincey Morris returns to Texas to fulfill a promise he made to Lucy, no matter how much blood it's going to take.  There's a bit of suspense at the end–is Quincey too late?
It's a good line-up of authors with some nice stories, it would make a pleasant Halloween present for a vampire fan.