Book Review: Murder at the Feast of Rejoicing by Lynda S. Robinson
Lord Meren wanted two things from his trip home to his estate at Baht.  First, to enjoy some rest and relaxation with his children, far from the politics and dangers of the court.  And also to complete a secret task for his friend and master, Pharaoh Tutankhamun.  Unfortunately, Meren's sister Idut has decided that his visit is the perfect opportunity to hold a feast of rejoicing, inviting all of their relatives…most of whom Meren hates or vice versa.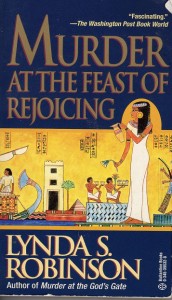 One of these is Anhai, the beautiful but poison-tongued wife of Meren's cousin Sennefer.  Her marriage with the notorious womanizer is on the rocks, and several other people have good reasons to hate her.  Still, it's a bit of a shock when she vanishes from the feast, and found dead in the granary, oddly positioned.  Lord Meren may be the Eyes of Pharaoh, and authorized to take steps to investigate, but his extended family has little respect for him, and his mission may be imperiled.
This is the third Lord Meren historical mystery set during the reign of King Tut, and I do not believe I have read the earlier ones.  The author is an anthropologist, and cites some of the research she's done.  She does admit that she's fudged some of the names for easier reader comprehension.
The characters are distinctive, and mostly unlikable, from drunkard little brother Ra, to the self-righteous Uncle Hepu.   At least one of the mysteries involved can be solved early by the reader who pays attention–others require more clues.
In addition to the usual murder, there is also talk of suicide, and some period-appropriate sexism
The paperback edition includes the first few pages of the next book in the series, Eater of Souls, which seems to indicate there's an Ammit-themed vigilante on the loose.
This is a perfectly decent murder mystery, and I recommend it to those with an interest in Ancient Egypt.