Book Review: The Island of Dr. Moreau by H.G. Wells
Edward Prendick, a young man of independent means, decides to take a natural history sea voyage (ala Charles Darwin) aboard the Lady Vain.  Somewhere in the Pacific, that ship crashed into a derelict and was lost.  Prendick and two other men managed to escape in a dinghy, but after a disastrous attempt at cannibalism, he was the only survivor.  Prendick was found by the tramp ship Ipecacuanha, which happens to be carrying a passenger named Montgomery, who nurses Prendick back to health.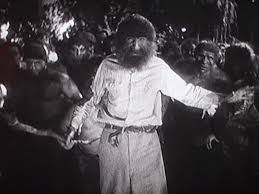 Montgomery, as it happens, is a former medical student who had to leave London in a hurry a decade ago (for reasons never fully explained.)   He and his odd-looking manservant have engaged the ship to deliver a supply of animals to a certain island, including a full-grown puma.  At the island, the animals are delivered to also odd-looking but differently so boatmen, and Prendick is not invited ashore with Montgomery.  On the other hand, the ill-tempered, alcoholic captain of the Ipecacuanha won't let him stay on board either.
Thus Prendick is dumped back in the dinghy.  After some parley, Prendick is reluctantly allowed to land on the island by its master, the highly antisocial Doctor Moreau.  Prendick recognizes the name as someone who also had to leave England in a hurry under a cloud of suspicion.   After some initial misunderstandings, Prendick learns the secret of the island…which I am fairly certain you already know.
This 1896 novel by H.G. Wells was the second of his book-length (but just barely) speculative fiction works.   It still stands up as literature thanks to the multiple levels it works on.   It's a chiller about a man stranded on an island of beast people who are rapidly going feral, a warning against cruel/unnecessary animal experimentation (Prendick is not opposed to vivisection per se, but becomes even more disgusted with Moreau once he realizes the doctor has no actual goal beyond turning an animal into a human being to prove he can), and an allegory about the animalistic behavior lurking beneath the thin veneer of human civilization.
Prendick, like the Time Traveler, is a bit of a stumblebum.  He has a smattering of scientific education which allows him to follow along when Moreau and Montgomery give explanations, but not enough knowledge in any given field to be useful in survival.  He also burns down Moreau's lab entirely by accident, and is repeatedly bad at making rafts.  Prendick only eventually escapes when he stumbles across the Ipecacuanha's lifeboat, with the captain's corpse inside (which is never explained either.)  On the other hand, Prendick turns out to be an excellent shot with his very limited ammunition.
Montgomery is the most nuanced character, a man who lets his weaknesses (primarily alcohol) guide his actions, but with frequent decent impulses.  We learn that it is in fact, he, not Moreau, who came up with the Law that the Beast People follow, in an attempt to help them not regress to the animals they once were.   He also shows small kindnesses throughout the book until his death.
Moreau, conversely, is very much the mad scientist.  He starts with the knowledge that body grafts are possible on a small scale, and decides that turning an animal into a human being would be a really cool achievement.  There's no scientific method involved, he doesn't bother with anesthesia, and he loses all interest in his creations once they fail to live up to his expectations.   Like Victor Frankenstein, he's so busy sculpting his new humans that he fails to step back and look at the aesthetics of his creations until he's already done.  Unlike most real scientists, he fails to apply any ethical standard to himself or his work,  although he does feel that he is religious and that the pain he inflicts is meaningless in light of his higher nature.
The Beast People are victims of Moreau, animals carved into humanoid shapes (and sometimes blended for fun, like the hyena-swine), given limited speech and intelligence, yet just human enough to realize that they are not fully human and never will be.   Yes, they are dangerous, and a couple of them may actually be evil by human standards.  But they never asked to be made or abandoned; for them death is a kind of mercy.
It is nigh impossible to re-create the experience the original readers might have had, not having seen anything like this story before.  I note, however, that the trope of deformed, degenerate sub-human tribes of natives tucked away in the depths of Africa or the Pacific was common in adventure literature of the time, and the first readers might have believed they were getting such a tale from the early chapters.
The framing of the story is old-fashioned; there's an introduction by a nephew of Prendick's, explaining that this manuscript was found among his uncle's effects, and while the shipwreck part is true, and Prendick was found a year later in a lifeboat that might have been the freighter's, nothing else can be verified.  The only island in the area of pick-up shows no sign of the events of the story, and Prendick claimed traumatic amnesia regarding the missing year during his lifetime.  (Prendick explains in the story proper that he did this to avoid being locked in a loony bin.)
This is a good read for both horror and science fiction fans who can handle the old-fashioned vocabulary and slow start.  The vivisection theme makes it more suitable for junior high on up, and parents of younger readers may want to discuss proper scientific ethics with their wards.  One of the classics.
"Not to go on all fours, that is The Law.  Are we not Men?"