Comic Book Review: Teen Titans Earth One Volume One written by Jeff Lemire, pencils by Terry Dodson, inks by Rachel Dodson & Cam Smith
The Teen Titans began as a club for the kid sidekicks of various DC Comics superheroes, with an attempt to address "youth issues" while the characters were very much establishment types.  Over the course of time, the group added new members who were created especially for the series and broadened its appeal for modest success.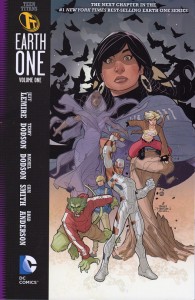 In 1980, writer Marv Wolfman and artist George Perez updated the series as the New Teen Titans with several new characters and making most of them  college-age.  This version became immensely popular due to superior art and plotting.  It's also the version that this re-imagining draws upon the most.  The "Earth-One" books take place in the present day of a world that hasn't had superheroes before, so only the characters who weren't created as sidekicks are included.
Navajo teen Raven has been having visions, confusing images of a crashed spaceship, and of other teenagers who are somehow connected to it.  The other main characters, Tara, Victor, Garfield, and Joseph, are currently living in Monument, Oregon and it's the first day of school.  Each of them has their own difficulties, with their family or with their peer group.  Each of them also is beginning to have strange things happen to them.
Tara's mother Rita is not at all happy about what's going on, but with her alcoholism, Tara can't trust the woman.  Victor's mother, Elinore Stone, is much happier–she's been waiting for her son to develop for ages.  She's creepily thrilled, which makes Victor even more afraid.
Elinore and the other adults have their own problems.  It seems that the kids weren't supposed to be developing their powers in such an uncontrolled way, and the survivor of that spaceship is becoming more powerful by the minute.  Their secret sponsor is about to pull the plug unless they can get "Starfire" subdued.
The theme of young people being lied to and betrayed by their elders is a familiar one, but is decently handled here.  Those familiar with the previous versions of the team will notice some shout-outs, but new readers should not have any difficulty following the story.
The art is decent, and there is plenty of room for sequels.  It's not very much like the animated Teen Titans series, so I am not sure how much crossover fandom there will be.
Recommended primarily for comics fans who don't want to deal with a lot of the previous continuity.