Comic Strip Review: Chester Gould's Dick Tracy Volume 14: 1951-1953 by Chester Gould
Another of the fine IDW reprints which are trying to cover the entire Chester Gould run of Dick Tracy, moving into the early 1950s.  As mentioned in the Max Allan Collins introduction, the stories shifted focus a bit.  Dick Tracy is a full time father now, and those concerns take up some of his time.  As well, forensic science was beginning to catch up with the comic strips, so more of that was included as part of the action.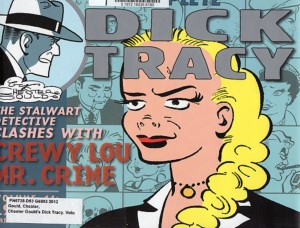 The volume begins with Crewy Lou's flight from justice, which is complicated by the fact that she's accidentally abducted Bonny Braids, Dick and Tess' infant daughter who started the whole plotline when Crewy Lou photographed her.  They go deep into the mountains, and the desperate woman finally abandons the baby in the smashed-up car.  It's late fall, and the temperatures are dropping…Bonny Braids is turning blue…would Chester Gould really go ahead and kill the baby?
With his family reunited, Tracy then finds himself the subject of investigation–evidence has gone missing from the police station, evidence Dick was the last to touch.  It didn't help that Dick Tracy had just built a fine new house and had a brand new car on a cop's salary.  The main villain this time is "Spinner" ReCord, an electronic entertainment and record store owner.  He was especially cold-blooded, crating himself up with a corpse for hours on a train.  But not, as it happened, quite cold-blooded enough as he is eventually caught due to his body heat.
The supplemental article in this issue talks a bit about how this sequence was modified for comic book publication a few years later when the Comics Code was in force.  A girl's arms were crudely erased to avoid showing bondage, and a particularly brutal beating was replaced with a text panel that skips over that.
This is followed by one of the most striking Dick Tracy sequences, as Junior Tracy falls in love for the first time (and is now established as a teenager.)  Model Jones is a lovely young woman of decent character, but saddled with drunkard parents and a juvenile delinquent brother.  Gould's point here is that neglecting your children for alcohol will destroy the family.  Model is killed by her brother (mostly accidentally) and he and their parents mourn the wasted lives as he is sent to prison.
Junior mourns as well, but the world moves on with the initially kind of silly Tonsils story.  Tonsils is a young man with a loud clear voice and a strange way of moving his hands when he "sings."  He has a poor memory for lyrics, and can't carry a tune in a bucket, but his manager Dude thinks Tonsils is the next sensation.  Dude wants to quit the rackets, but still has a racketeer's way of doing things, using a gun to coerce people into giving Tonsils a shot.
Surprise!  Tonsils is exactly the sort of giftedly bad novelty singer the American public wants, and he becomes locally famous.  Unfortunately, Dude's old racketeer buddies decide that he should not have left the rackets, killing him and nearly killing Tonsils.  This unbalances the lad, and he winds up getting himself on the run from the law due to his mistaken belief that he's been betrayed.
At this point, Tonsils is picked up by a far more dangerous villain, Mr. Crime.  From his hidden lair beneath a barracuda-infested swimming pool, Mr. Crime is the current leader of the rackets.  He coerces Tonsils into making an assassination attempt on Dick Tracy, and then starts moving against the detective himself.  Mr. Crime is ably assisted by Newsuit Nan, a fashion plate biochemist who has a fascination with blood.
With Mr. Crime and his gang out of the way, there's a power vacuum in the underworld, which gambler Odds Zon plans to fill.  He tries a combination of torture and bribery to get Dick Tracy off the case, but it obviously doesn't work.  Things get more complicated when the Plenty family takes in his daughter Susie, who becomes known as Little Wings due to her hair looking like a pair of angel wings.  And this angel glows in the dark!  Uh-oh.
This volume holds off on the truly grotesque looking villains; the most odd appearance is Tonsils' habit of squinting one eye and bugging out the other.  The Model Jones story is the most "real" seeming due to its down to earth nature.  There is of course considerable violence, and some torture.
This isn't the most famous period of Gould's work, but it's good solid adventure strip territory.  The end piece talks (in addition to the bowdlerization of the comic books) about what Mr. Gould was up to in real life in those years, and the strip's effects in real life.
Recommended to fans of classic newspaper comics.