Book Review: The Land of Dreams by Vidar Sundstøl
Lance Hansen has not dreamed in seven years.   A divorced Forest Service police officer on the North Shore of Lake Superior, most of his days are spent chasing illegal fishing and people camping in the wrong places.  He thinks that the latter will be his main problem one June day, but when he investigates the crime scene, one camper is covered in blood, and the other horribly murdered.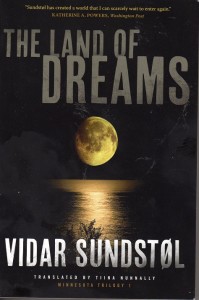 This is the first book in Norwegian crime writer Vidar Sundstøl's "Minnesota Trilogy", translated by Tiina Nunnally.   I should warn you right away that this is a true trilogy, and most of the mysteries introduced in this volume are not fully resolved in it.
Lance is a history buff, expert in the Cook County area's people and events–he realizes this is the first murder within living memory in the area, and this allows the author to use the background material he gathered while himself living on the North Shore.   During a check of his archives, Lance realizes that a disappearance a century ago might be connected to an  old family story he had not realized must have taken place at the same time.
The current murder investigation is out of Lance Hansen's hands, however.  Since it took place on federal land, the FBI has been called in, as well as a guest detective from Norway, Eirik Nyland.  The investigators soon learn that the Norwegian tourists were lovers, but is their homosexuality a motive for murder, or just a complication to the investigation?  (This book was written before Minnesota legalized gay marriage.)
While many details of life on the North Shore ring true, and the translation works well (absent one or two word choices I would have done differently), it is really obvious that the book was written for a Scandinavian audience, as there's a lengthy passage dedicated to explaining just where Lake Superior actually is.
The Norwegian immigrant experience and Ojibwe/Chippewa /Ashinabe lore are woven into the story's fabric, important to Lance's storyline if nothing else.
This book has a leisurely pace, and more impatient readers may want to give it a miss as it ambles from scene to scene and the characters spend a lot of time looking at Lake Superior and thinking.  There may be some supernatural events, or Lance may simply be hallucinating–that's one of the mysteries that is not resolved here.
The ending is disturbing to me in a way few books are, and I am very interested in finding out what happens.
Recommended to fans of Nordic crime stories, and residents of Minnesota.