Manga Review: Black Blizzard by Yoshihiro Tatsumi
The year is 1956.  Shinpei Konta, a card shark with five convictions (two for murder) and Susumu Yamaji, a pianist just convicted for murder, are handcuffed together on a train headed for prison.  The weather has turned to a blizzard, and a landslide across the tracks derails the train and allows the convicts to escape.  However, two men handcuffed together aren't going to get very far before being spotted.  They don't have any tools that can cut the chain…but they do have something that will cut off a human hand!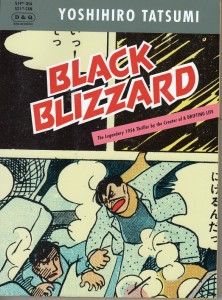 This was Yoshihiro Tatsumi's first "novel-length" manga story.  There's an interview with him to fill out the book, and he explains the commercial aspects of how the story came to be (color pages at the beginning to entice young readers to rent the manga from the store, for example) as well as the creative side.  While the cover calls this "legendary", he notes that it only had moderate success at the time (but proved he was able to sell on his own, rather than just in anthologies.)
The story has noir-ish touches, and I could see it as an hour-long live action TV drama (half an hour with some cuts.)  Much of the story is Susumu flashing back to his romance with a circus singer, and a drunken brawl that led to the death of the ringmaster.   Susumu is not a hardened criminal, and wants to protect his hands.  Shinpei, on the other hand, has already spent a total of thirty years in jail, is far more ruthless, and needs both his hands as well.
The art is crude by modern standards, but effective, and conveys the heavy weather well.  The writing is likewise somewhat old-fashioned, going for suspense.  Content warning for off-screen domestic abuse.
Since this is complete in one volume, it's a good choice for those who'd like to sample older manga or have a taste for crime fiction.