Book Review: Storm Over Warlock by Andre Norton
Shann Lantee is a member of the Survey Corps team getting the planet Warlock ready for human colonization.  Well, just barely.  Without any formal education, Shann was brought along to do all the scutwork of the camp, including tending the genetically enhanced wolverines being tested as partners for human scouts.  A bully has let the wolverines out of their cage to get Shann in trouble, and so the young man is well outside the camp when the Throg come calling.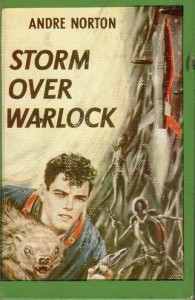 The vaguely beetle-like Throg are at war with the humans; both species need Earth-like planets, but the Throg prefer letting the Terran-derived people find the planet, then snatch it away from them.  The Throg kill everyone in the camp, and Shann believes himself to be the only living human on Warlock, heading into the mountains to hide.
Soon, however, he is joined by Ragnar Thorvald, the leader of the Survey team, who had happened to be off-planet during the initial raid.  His return ship was shot down, and the officer decides to create the illusion that there are sentient natives on the planet.  Thorvald has his reasons to believe that there are undiscovered intelligent natives on the planet, and Shann will need to uncover the secrets of Warlock if anyone is to survive the Throg invasion.
Andre Norton was born Alice Norton, and like many women writing in the 1930s (and  later) was pressured into having a male-sounding pen name to sell books in a genre that wasn't considered a woman's field.  (She later legally changed her name to Andre Alice Norton, for convenience.)  Storm Over Warlock is the first of her "Forerunner" series (retroactively named when the Forerunner turned up in one of the later books.)  When published in 1960, it was a "juvenile"; nowadays we'd call it "young adult."
The story starts with the destruction of the camp, and Shann doesn't spend a lot of time having detailed flashbacks, so we don't get a lot of backstory for him.  We do learn that he was born in an impoverished section of a mining planet, orphaned at an early age, and led a hard life–an intriguing remark indicates that he's seen people being mind-controlled before, but does not expand on that.
There's even less background for Ragnar Thorvald.  We can gather that he's been a successful Survey scout , since he was placed in charge of the expedition.  Thorvald was distracted by his worries that Warlock has sentient inhabitants–he's clearly barely noticed Shann Lantee existed before they're forced together by circumstances.  He also seems to have been unaware of how much a bully his younger brother Garth was, and Shann doesn't bring it up.  While he's much more educated and competent than Shann, Thorvald is sidelined for large portions of the story, forcing Shann to make his own way.
Taggi and Togi, the wolverines, are an important part of the book, Shann's only friends at the beginning, and often useful in survival.  Since they are incapable of speech, it's not clear to Shann or the reader how intelligent they really are.
The Throg are treated as innately hostile beings in this volume, their psychological differences with humans making compromise or cooperation impossible, and their deaths a necessity.
The Wyverns, on the other hand, are far more amenable once Shann has managed to establish communication.  They may be a semi-aquatic matriarchy with psychic powers, but they share many values with the Terrans.  Shann must undergo a vision quest/ordeal to win their trust, which also is where we get most of his background.
It's worth noting that in the book, Shann Lantee's ethnicity is ambiguous–his skin is darker than Thorvald's even after the latter tans, and he has curly black hair–the cover goes for rather pale skin.
This is a solid action/survival story for teenage boys, with some dated attitudes.  Recommended for science fiction fans.  My copy is a remaindered library book, but you should be able to find an inexpensive reprint easily.